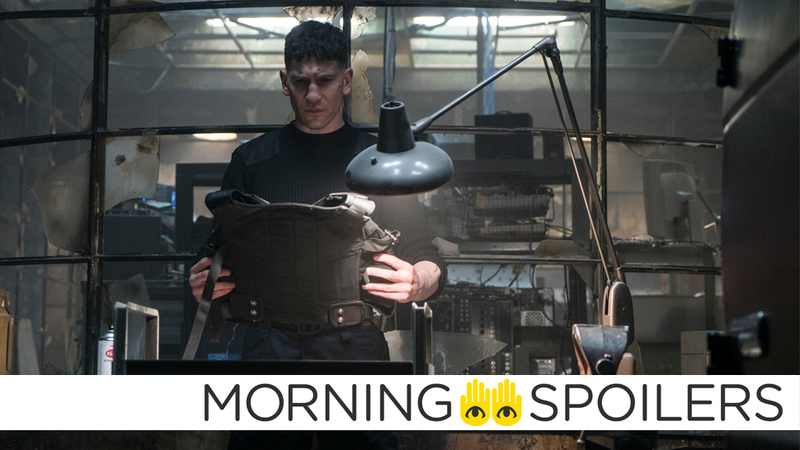 The Happytime Murders expands its cast. Get a look at Paul Bettany's mysterious Han Solo character. Stephen Amell hints at a happier future for Oliver Queen in Arrow's next season. Plus, the first look at The Magicians' third season and new clips from Rick and Morty and Kingsman: The Golden Circle. To me, my spoilers!

The live-action Lion King taps some Marvel Cinematic Universe stars for key roles. Jodie Whittaker talks about the reaction to her Doctor Who casting. The Avatar sequels are going to resurrect a dead character from the first movie. Plus, new clips from Killjoys and Dark Matter and new Thor: Ragnarok pictures. To me,…
Don't expect many new faces in between Infinity War and Avengers 4. A new Spider-Man: Homecoming cast list seemingly confirms another Marvel cameo. Get a first look at Pixar's new experimental short. Plus, a new trailer for Doctor Who's season finale and set pictures from Jessica Jones season 2. Spoilers now!

A young man's father heads off into space to look for intelligent life. He never returns. Decades later, that young man decides to journey across the galaxy in search of his father. That's rumored to be the plot of a new scifi film called Ad Astra, and writer-director James Gray just landed his second star.
Over the last few months, SpaceX has out-SpaceX-ed itself in the best way possible: it's launched an already used rocket into orbit (and landed it), ferried up a spy satellite, and even flown a recycled Dragon spacecraft. But this weekend, the aerospace company will tackle a new challenge: two launches within 48…
While rocket launches aren't typically thought of as "cute," watching the maiden voyage of Rocket Lab's Electron rocket is the closest we'll get to seeing the Brave Little Toaster go to space. Today, the 56-foot (17 meter) carbon fiber rocket blasted off from New Zealand's Mahia Peninsula and made it to the edge of…
The typical SpaceX payload might include a communications satellite, some ISS supplies, even the occasional spy network. But later this year, the aerospace company will embark on something quite a bit more endearing: a Falcon 9 rocket will carry the cremated remains of beloved family members into space.
There are intriguing new details about Laura Dern's Star Wars: The Last Jedi character. Yet another familiar face is confirmed for Game of Thrones' seventh season. Dwayne Johnson has an update on both the Shazam and Black Adam movies. Plus, new pictures from Agents of SHIELD, Riverdale, and iZombie. It's the spoilers…
Bryan Singer teases X-Men: Apocalypse's post-credits sting. The Archie Comics series Riverdale gets a series. Pacific Rim 2 has found its writer. You'll be waiting a while yet before the next season of Attack on Titan. Plus, new pictures from Warcraft, and the first clips from Teenage Mutant Ninja Turtles 2. Spoilers!
James Gunn's Center for the Study of Science Fiction at Kansas University has always been a locus of awesomeness in the consideration of the genre we all love. Among other things, the Center hosts the John W. Campbell Memorial Award every year, celebrating "the best science-fiction novel of the year."