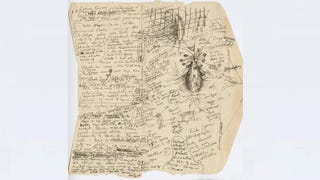 Still trying to wrap your head around H.P. Lovecraft's mysterious Elder Things and collection monsters who lived below the ice of the Antarctic? Well, now you can see exactly what these mysterious beasts looked like from the author's point of view, thanks to a few pages of recently discovered doodles right out of…
We're still pretty sad that we're never going to Guillermo del Toro's vision for the H. P. Lovecraft story At the Mountains of Madness. Unfortunately budget cuts and Prometheus killed this movie, but it will live on forever in the much whispered about pages of Guillermo del Toro's sketch book.
"I'm going to sit, because I'm fat. I hope you're drinking stuff," Guillermo del Toro said as he took the stage at Portland's Baghdad Theater & Pub. Ostensibly he was there to read from his new book... but he digressed.
James Cameron is pumped to produce Guillermo del Toro's Lovecraft adaptation At The Mountain of Madness "It's going to be an epically scaled horror film, and we haven't seen anything like that in a really long time... since Aliens." [Wired]
Guillermo del Toro is bringing H.P. Lovecraft's At The Mountains Of Madness to the big screen in 2010, although it sounds like he'll be juggling duties on that film while trying to make two simultaneous The Hobbit feature films. After working with a vampire, a fairy tale, a red-skinned demon, and a hobbit, he'll be…