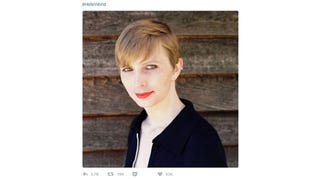 After seven years in a military prison, Manning was free on May 17th. And over the last few days, her social media posts have been reminding us of the good old internet, before logging on meant bracing yourself for news of the next disaster.
President Barack Obama is commuting a bulk of the remaining prison sentence for Chelsea Manning, the Army intelligence analyst responsible for a major 2010 military leak, according to a New York Times report. Manning is scheduled to be released from federal custody on May 17 according to the report.

Chelsea Manning's formal petition requesting President Obama reduce the remainder of her 35-year prison sentence surpassed 100,000 signatures on Saturday and now necessitates a response from the White House.

On April 3rd, 581 days after a military court sentenced her to 35 years in prison for leaking some 750,000 classified documents, Chelsea Manning burst back into the public eye with a new Twitter account. What the hell is she trying to do? We talked to the people running her account to find out.