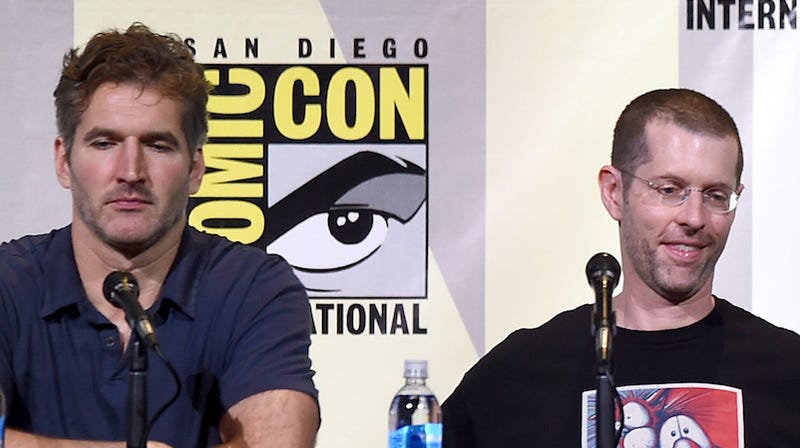 The team that's bringing Confederate, the just-announced alt-history drama in which the south secedes from the Union after a second Civil War and maintains slavery in present-day America, to HBO have heard the many, many concerns expressed about the series, and have an answer: We understand, but please hold your…
When David Benioff and D.B. Weiss wrap up Game of Thrones' upcoming final season, there will still be a number of Westeros-related projects in development at HBO. But the pair's focus will be elsewhere on the network—specifically on Confederate, a new series about an alternate history where the South successfully…
The latest character killed on Game of Thrones (don't worry, we won't spoil it yet just in case) certainly caused a roller coaster of reactions. First was the shock, then the tears, followed by anger, acceptance, and eventually, memes. Now, the death is a pop culture staple and the creators are sorry.
It's not exactly uncommon knowledge at this point that the never-released Game of Thrones pilot wasn't just totally different to what we got; it was a downright disaster. But it eventually got reworked into something that sparked a cultural sensation is a miracle... and hoo boy, do David Benioff and D. B. Weiss know…
Game of Thrones has been getting ahead of the books by George R.R. Martin for a while now. But it's also been diverging from the books in significant ways. So when we see an event that's not in the books, it's hard to tell if it's a spoiler for Winds of Winter, or another sidetrack. Except we just got one big hint.

When HBO decided to make a TV series of George R.R. Martin's A Song of Ice and Fire books, creators D.B. Weiss and David Benioff sat down with Martin and he told them how the story ends, in broad strokes. But now that the show is catching up to Martin's books, he's told them in much greater detail, character by…
You might already know that Game of Thrones filmed a pilot that never aired. With different actors playing Daenerys and Catelyn, and a few other changes. Not much is known about this earlier Thrones pilot, except for a few hints — but a copy of the script was posted online. Here's all the scoop about the Westeros you…