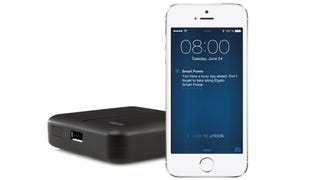 A portable charger can save your butt on days when your smartphone never seems to leave your hand—but only if you remember to bring it with you. So not only has Elgato packed 6,000 mAh into its new Smart Power battery, but Bluetooth and an accompanying iOS app as well, so that it can peek at your iPhone's calendar and…
The latest version of Elgato's much-loved EyeTV app, 1.2.3, brings along sought-after AirPlay support for streaming to and from Macs that have an Elgato tuner stuck in a slot. The AirPlay addition means you can now stream video to Apple TV or other AirPlay-supporting products, but still also take advantage of the…
If someone you know would be daunted by an instruction to "just use Handbrake," Elgato's new Turbo.264 HD software makes it dead easy to convert video files from camcorders and computers for playback on iPads and iPhones and the rest.
Elgato's EyeTV app has let you stream live or recorded television to the iPhone for a while now, but today the service has finally been optimized for the iPad.
The EyeTV Hybrid TV recording stick is now both Mac and Windows 7 compatible, with the EyeTV software bundled for Mac users, whereas Windows users can watch TV through Windows Media Center. It's apparently the world's smallest hybrid TV tuner.
Elgato's Video Capture takes in analog video—RCA or S-Video—and captures it directly to Macs via USB.
Elgato has shrunk the tech in their Mac-friendly USB TV tuner dongles so that the latest EyeTV DTT Deluxe is much smaller. And as a result, it's now compatible with the MacBook Air's low ground-clearance. It's got a digital tuner inside that can do full HD, so it's just for those of you who can get DVB-T or Freeview,…
The Gadget: Although the Elgato Turbo.264 hardware encoder has been around for a while, products have been released that make h.264 one of the most, if not the most important video codecs out there. Not only is it supported by the iPod classic, there's the iPod nano, iPod touch, Xbox 360, PS3, Apple TV, many, many…
Elgato EyeTV owners get a free update from 2.0 to 2.5, supporting Wi-Fi viewing of your EyeTV recordings on both the iPhone or iPod touch. Go upgrade now! [Elgato]
Elgato improves on their USB High Def solution for Macs by introducing the HDHomeRun, a network-connected device that can actually service multiple machines at once. There are two ATSC (over the air or unencrypted cable but not standard cable) tuners, which means two people can watch 24 and Heroes at the same time.…
Following up on the rumor that Apple was going to add an H.264 hardware encoding/decoding chip into all upcoming Macs, Elgato has released an H.264 USB stick that does just that. What does this mean to you? Well, a USB stick would be second best to an internal chip (like was speculated before) but the effect is the…
The Elgato Eyetv Hybrid looks like a promising spent-all-my-money-on-my-mac-can't-afford-a-tv solution. It's the latest update to the EyeTV line - a USB-powered tv tuner that supports analog antenna, digital (or HD) antenna, coax and s-video sources. There's full front-row support and the EyeTV software allows…