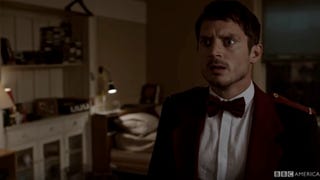 New York Comic Con attendees got to see the first episode of BBC America's Elijah Wood-starring adaptation of Douglas Adams' Dirk Gently's Holistic Detective Agency. Everyone else will have to wait a few weeks, but in the meantime, here's a clip that really captures the odd-couple chemistry of the show's two leads.

In honor of The Hobbit: The Battle of the Five Armies, the folks at Air New Zealand have updated their Hobbit-studded flight safety video with even more special effects madness and costumed flight attendants—plus cameos from Elijah Wood, Peter Jackson, and Sylvester McCoy.
You've seen the trailer, now check out Sir Ian riding a horse around New Zealand (at Peter Jackson's behest, of course) and Frodo getting nostalgic for his return to Hobbiton (which has been cleared of ovine squatters). Also, witness the logistics of filming in New Zealand's great outdoors.
Most of the original LOTR cast remains unconfirmed, but Elijah Wood's definitely reprising Frodo. Frodo's not in the book, so what's his role in The Hobbit? Spoilers away!
Elijah Wood, Orlando Bloom, Ian McKellen and Andy Serkis are allegedly in talks to appear in The Hobbit. How is it McKellen and Serkis haven't locked this down already? The only Gandalf and Gollum we want are the originals. [Deadline]