Finding Dory should not be a good movie. It's a film the filmmakers didn't want to make, starring a character who was considered a sidekick, and made more than a decade after the original—an original which was incredibly successful and award-winning, and needed no sequel. But somehow, not only is Finding Dory good,…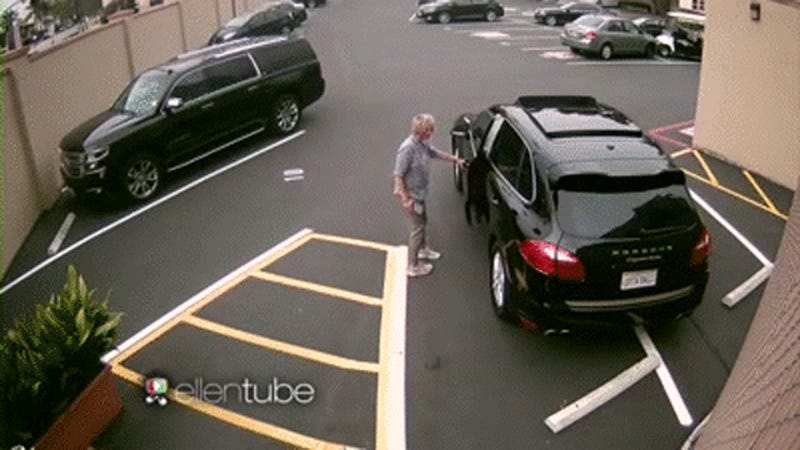 As most of her fans know, Ellen DeGeneres has been messing (hilariously) with Today Show host Matt Lauer. Now, it'd seem, Matt's decided to get even. After opening her car door and spilling ping pong balls all over a parking lot, DeGeneres discovers a cardboard cutout of her prankster buried inside.
The Oscars start tonight at 8:30pm. Will Gravity, a ground-breaking, lady-fronted, beautifully shot science film make history? Who do you think will win?
I'm sure Amazon founder and CEO Jeff Bezos doesn't know about this, but he's funding a seemingly Christian extremist search engine that is anti-abortion, anti-evolution, racist and even thinks that rape may be justifiable. It's called ChaCha, and it powers Android's most popular Siri competitor, Iris.
Click to viewIt seems that Apple doesn't like—or simply doesn't understand—the extremely complex, layered satire presented on the Ellen Degeneres Show: The company supposedly bullied poor Ellen into apologizing for spoofing an iPhone commercial.
In today's forgotten corner of Gizmodo that is Remainders, we've got OK Go's new tech-courting music video, ever more info on the Apple-Lala acquisition, a super (Mario) cross-stitch project, and Ellen Degeneres's gadgety Christmas giveaway. Buckle up, you guys.