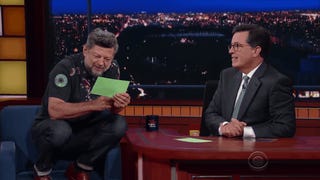 Andy Serkis, the actor who played Gollum in the Lord of the Rings series, was on The Late Show with Stephen Colbert last night. And Colbert, a huge LOTR nerd, had Serkis read President Trump's tweets on air. It's honestly just too perfect.

Finally, some brave soul has taken it upon himself to record Les Miserablés' "I Dreamed a Dream" in the voice of Gollum. The song — which you might recognize from the commercials for the recent movie version of the musical, which Anne Hathaway sings while looking completely, emotionally devastated — actually works…
Visitors to the Wellington Airport can now dine beneath the hungry eyes of Gollum. In honor of the upcoming Hobbit movie, the Weta Workshop has installed a 13-meter sculpture of the Ring-obsessed creature reaching for some tasty New Zealand rainbow trout.
Second unit director on The Hobbit and Gollum wrangler Andy Serkis made the crowd go wild at The Hobbit panel in Comic-Con when he adorably cussed in the voice of Gollum. After being prompted to "do the voice" — and being egged on by host Chris Hardwick — Serkis let them all have a little taste of Gollum on a…