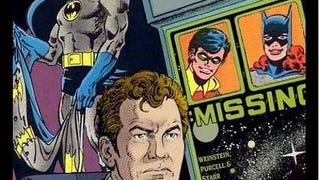 At the blog The Brave and The Bold: The Lost Issues, blogmaster Ross teams Batman up with absolutely everybody, copyright be damned. Check out the never-was issues of The Brave and The Bold, guest-starring Alpha Flight, Deathlok, and KISS!
The battle between science and faith is over, and superstition won. Don't believe us? Watch the evidence, as Batman himself chooses magic over his own uber-science during last night's Batman: The Brave And The Bold.
As if you needed any more convincing that Batman: The Brave And The Bold was the must-see superhero cartoon around, last night's return featured a mix of Venture Bros, mechasuits and Edward G. Robinson. Genius!
While other shows may be ending with explosive finales, our favorite cartoon Batman: The Brave And The Bold returns tonight with a story of inappropriate crushes and jailbreaks. We have a clip to whet appetites.
Today's spoilers include a desription of some Star Trek concept art that was on display in L.A., and yet another batch of Transformers toy pics. There are new pics for Day The Earth Stood Still and new synopses of Special and Timecrimes. Plus a new hint about the hypothetical Hulk 3. An extra from Lost posted a…
Batman faces off with pointy-eared aliens and bug-eyed space dictators in this clip from the upcoming animated series Batman: The Brave And The Bold. It's all to help Blue Beetle save some weird dancing amoebas. Is it some strange Joker-toxin-induced nightmare... or the return to the type of awesome old-school sci-fi…
The fall TV season is in full swing again, and it's not too late to speculate about which shows are headed for an early doom. After all, it's not unheard of for shows to last a few episodes, then vanish into DVD heaven. In fact, this could be your chance to get your vote in so you can say you told us so later. Jump in…
Click to viewHope everyone out there liked The Dark Knight, because if Warner Bros have their way, there will be plenty more where that came from - Four such movies a year, in fact. Variety is reporting that, while the studio may be light on summer blockbusters next year, they're looking to DC Comics in particular to…
Sure, The Dark Knight is a widely acclaimed film that mesmerizes with its portrayal of darkness and obsession, but isn't there more to Batman than grimness? The creators of the new Cartoon Network show Batman: The Brave and The Bold think so. They've created the goofiest, most kid-friendly Batman since the 1970s, as…
Cartoon Network is hoping that none of you are hoping to have a social life come fall, because they have something special planned for your Saturday nights instead: Stormtroopers, superheroes and "alien forces", making up what the channel is somewhat understatedly calling "a good night for sci-fi programs."
Mark Waid is best known for creating the Kingdom Come graphic novel with Alex Ross, but his more recent run on Brave and the Bold has been of the best comics from DC lately. He's one of the quickest people to label himself a comic book nut, and his house is full of memorabilia. He ran down to his local comic book shop…