Before now-Tropical Storm Irma made landfall in the Florida Keys, killing at least nine and doing untold damage, then-Hurricane Irma barreled through the Caribbean, killing dozens and flattening entire islands.

Irma, which made landfall in the Florida Keys yesterday afternoon as a Category 4 hurricane, has now been downgraded to a tropical storm. The system, which is now 400 miles wide, may have lost some strength, but it's continuing to produce heavy winds and rain as it marches northwards towards Georgia.
Hermine has an identity problem, shifting from hurricane to tropical storm to "post-tropical cyclone." Whatever the heck it is it's already caused damage in Florida and power outages in Georgia, and South and North Carolina, and is expected to produce life threatening storm surges in New Jersey and New York over the…
It was a historic moment in meteorology late last week, when three Category 4 storms were simultaneously spotted marching across the Pacific. As if that wasn't ominous enough, a tropical depression has just added itself to the mix.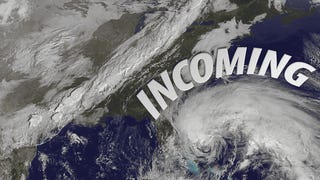 Meteorologists are forecasting what could be the worst storm to hit the eastern United States in more than 70 years. Dubbed the "Frankenstorm" by the National Oceanic and Atmospheric Administration, the system could potentially pummel the Mid-Atlantic and northeast with gale-force winds and snow at the same time. Yes,…