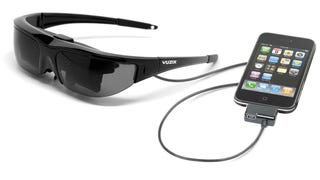 Vuzix is continuing to try and fine tune their video glasses into something we would actually be interested in buying. This time around, the emphasis seems to be on creating a more natural look.
This image by pyxelated on deviantart has been floating around for a little bit, but I think it captures one possible future scenario perfectly.
Digital tech has reinvigorated the 3D dream since the cardboard glasses and headaches of yesteryear. JVC showed off a nifty prototype TV at CEATEC outside Tokyo that converts high-def 2D video into what it calls "pseudo 3D" in real time. With the eyewear on, it takes a few moments for your brain to adjust, and then…
Answering Mark's prayers and bringing us all one step closer to looking like Geordi La Forge, Sony has unveiled eyeglasses that can show full-color video images. The prototype supports a QVGA resolution, weighs 120g, is 3mm thick at the lens, and has a contrast ratio of 50:1.
Video glasses. They should have taken over by now. The technology is good enough and cheap enough for the entire tech-buying world to be watching movies on simulated 40-inch screens (rather than squinting at their phone's pitiful 2.4-inch display, pretending we can really see the movie). But we're not. For well over a…
Sci-Fi eyewear lovers are finally getting more options when shopping for new shades with MyVu's release of two new models, Shades and Crystal. Both models are geared toward watching video on the go, with what MyVu describes as "glance-down technology with true situational awareness." With this "glance-down tech" these…
Video glasses have had a hard time catching on, but maybe it's because of all the wires involved. Then along comes the Qingbar GP300, billed as the world's first wireless video glasses with a built-in media player. Right out of the gate, you can pack plenty of DivX videos onto a mini SD card, great for video pirates…
If you are looking for a wearable monitor but don't want to look like a myopic cyborg (those of you who already do, please accept my deepest sympathies) then you could do worse than Teleglass's limited edition T4-N video glasses. Its titanium frames were designed by spectacle designer Kazuo Kawasaki and the rig, which…
The Lumus PD-20 aren't quite the Holy Grail of video glasses, but they are a small to mid-sized step in the proper direction. Instead of looking at the actual image source (coming from that box on the frame), wearers view a reflection from the Light-guide Optical Element (LOE) placed in direct eye view.
So I'm going to start off by telling you what the MyVu is not. It is not a television replacement, hell it's not even a laptop replacement for watching videos. But beyond that the MyVu does have some great niche uses, if you're comfortable with wearing a pair of goggles that beam images directly into your brain.…
We've already established that Japan's Thanko likes to make some wonky gadgets, so let today be no different. The VIGLBL01 Head Mounted Display plugs into any of your many video sources and displays the image on the tiny screens inside the unit. While you're actually looking at two small screens, the unit plays…
Sexing up the video glasses category yesterday the only way they could (with a pic of a hot lady sporting them) was the DV920 from ICUITI. Now, we have the Neomind Glasses from Korean company Coregem, which use video and audio impulses to stimulate the brain—supposedly to help in learning and relaxing. These…