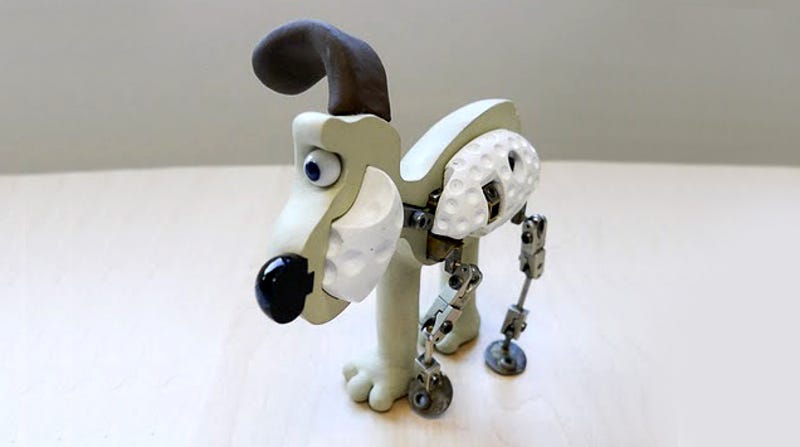 According to Nick Park's answer to this Redditor's question, the manufacturing cost for the original models of Wallace and Gromit is $20,000 a pop. It's hard to believe looking at Gromit's guts here, but knowing that every single part—including the plasticine—is custom made, it seems like a reasonable price.
July 1st marks the start of the Gromit Unleashed charity art exhibition in Bristol. Eighty statues of Wallace & Gromit's beloved stop-motion pooch are appearing all over the city, each custom designed by a different artist.
The Happy Egg Company took their cues for their Pancake-omatic from the cracking contraptions of Wallace and Gromit. It took engineers 200 hours to construct and 100 hours to test this pancake making device, which starts when the enthroned hen lays an egg. It's pretty to look at, but the real question is: are the…
At first glance, the idea of "Wallace and Gromit have their own science education show" seems a bit weird. Especially when you see Wallace, the claymation man with unmistakable sweater vest, sitting at a desk saying "Hello viewers." But actually, Wallace & Gromit's World of Invention, which just came out on DVD in…
In honor of Moon, opening today, we went kinda loony (get it?) coming up with our favorite lunar scenes in film and TV. (We restricted the list to our own planet's moon; sorry, Saturn and Endor fans.) Watch them here.
Doctor Who's time-traveler, The Doctor, may be the last of his kind... but he's not the only one who can regenerate. K-9, the Doctor's metal dog, will follow suit in his new show.
K-9, the robot dog from time traveling action-comedy Doctor Who, is finally getting his own TV show. Bob Baker, who created K-9 in 1977 and also co-wrote the Wallace And Gromit films, is in Australia working on 26 scripts for K-9 Adventures, which starts production next month. And as you can see from the concept…
The most intrepid space explorers and monster-fighters ever to be made of clay are coming back to our screens later this year, and they've built "robotic kneading arms" to help with their bakery business. The first images from the next Wallace And Gromit short, "A Matter Of Loaf And Death," went online — and they…