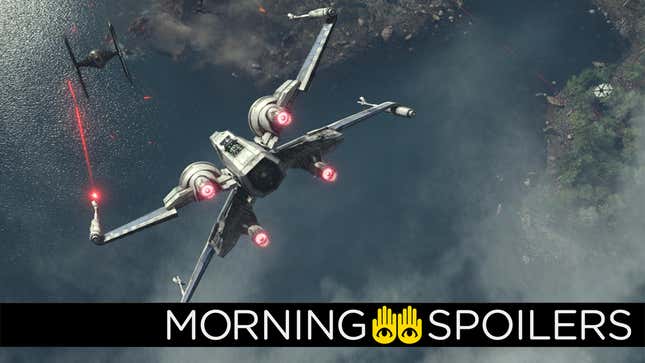 Sam Raimi has a troubling update on the Last of Us movie. Paul Verhoeven shares his thoughts on the Starship Troopers remake. Logan gives another teasing look at its villain. Plus, Dwayne Johnson discusses the slightly smaller Dwayne Johnson on his arm for Moana, a new trailer for The Man in the High Castle's return. Spoilers!


Twitter Is Shifting Right | Future Tech

Star Wars: Episode VIII
Making Star Wars has a new report about the appearances of both Benicio Del Toro and Laura Dern's characters in the film. The site describes Del Toro as a "classic 'Man in Black'" whose allegiances are apparently unclear to the heroes when he's first met with possible ties to a casino-esque location spotted in filming earlier this year.
Meanwhile, Laura Dern's "aristocratic" character apparently has a bold look that's described as "Hunger Games meets Star Wars", with ornate clothing and an outlandish hairstyle—allegedly bright pink hair, in an elaborate style that wouldn't look out of place in the prequels. There's a few more snippets of detail for both characters at the link. [Making Star Wars]
---
The Last of Us
Sam Raimi has more bad news regarding The Last of Us movie:
When we went to Neil with Ghost House Pictures. We were hoping to get the rights like we do any project and then we'd take it out and sell it, but we'd control the rights. With this one he went to Sony — who I have a very good relationship with — but they have their own plans for it and I think Neil's plan for it — I'm not trying to be political — Neil's plan for it is not the same as Sony's. And because my company doesn't have the rights, I actually can't help him too much. Even though I'm one of the producers on it the way he set it up, he sold his rights to Sony, Sony hired me as a producer by chance, and I can't get the rights free for him so I'm not in the driver's seat and I can't tell you what Sony and Neil together will decide on. If they do move forward, I'd love to help them again.
[IGN]
---
Starship Troopers
Paul Verhoeven is very much against the idea of a remake happening.
It said in the [Elle Magazine] article [that] the production team of that movie of the remake, that they would go back more and more towards the novel. And of course, we really, really tried to get away from the novel, because we felt that the novel was fascistic and militaristic. You feel that going back to the novel would fit very much in a Trump Presidency.

Our philosophy was really different [from Heinlein's book], we wanted to do a double story, a really wonderful adventure story about these young boys and girls fighting, but we also wanted to show that these people are really, in their heart, without knowing it, are on their way to fascism.

We succeeded to do this movie, that is so subversive, and politically incorrect [because] Sony changed [leadership] every three, four months. Nobody looked at the rushes [dailies] because they had no time because they were fired every three, four months. So we got away with it because nobody saw it.
---
Logan
Here's a new teaser photo of one of the Reaver's cyborg hands—potentially the arm of main villain Donald Pierce.

---
Rogue One: A Star Wars Story
There's a few tiny bits of new footage in this Japanese-language TV spot.


---
Moana
Dwayne Johnson—with the help of a digital, smaller Dwayne Johnson—explains the concept of Maui's living tattoo in a new featurette.


---
Altered Carbon
Kristin Lehman has joined the cast of Netflix's futuristic body-swapping drama as Miriam Bancroft, "the wife of the wealthy, over-500-year-old Laurens Bancroft who is not just the striking beautiful trophy wife she appears to be." [Deadline]
---
Riverdale
The CW has finally set a premiere date of January 26th, 2017 for the series. [Comicbook.com]
---
The Walking Dead
Here's a brief (and absurdly cryptic) new synopsis for episode six, "Swear".
Someone stumbles upon a brand new society, and this society is unlike anything they've seen before.
---
The Exorcist
Here's a new synopsis for episode nine, "162".
One the eve of Pope Sebastian's visit to Chicago, Marcus and his companions race to avert a potential tragedy. Tomas is offered a life-changing opportunity, but will the sins of his past endanger his future within the church? Meanwhile, as the Rance family attempts to recover from their most recent ordeal, a new problem threatens to tear them apart.
---
The Man in the High Castle
Finally, here's a new trailer for the second season of the show.
---
Additional reporting by Gordon Jackson. Banner art by Jim Cooke.