New set pictures from the next Terminator give us our first look at Linda Hamilton back in action. Zachary Quinto offers a brief hint on the next Star Trek film. George Clooney could direct a new scifi movie. Plus, Swamp Thing casting rumors, and Cheo Hodari Coker on the villains of Luke Cage season two. Spoilers, assemble!



Echo
George Clooney is in talks to direct the scifi thriller Echo, in which a drone specialist suspects "his lover is not who she appears to be" and may "have been replaced." [Deadline]
---
Rim of the World
Deadline also has word McG is currently directing an alien invasion movie set at a summer camp for Netflix, starring Jack Gore, Miya Cech, Benjamin Flores Jr., King Bach, Lynn Collins, Annabeth Gish, and Michael Beach.
G/O Media may get a commission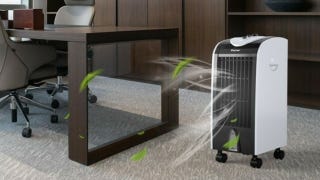 Save $10
Evaporative Portable Air Conditioner Cooler with Filter Knob
---
Terminator 6
The Terminator Fans have two exclusive photos of Linda Hamilton on set.
---
It: Chapter 2
James McAvoy confirmed production has officially begun on It: Chapter 2 by photographing a cheese triangle and posting it to Instagram. What could it mean!?
---
Ant-Man and The Wasp
Coming Soon has a prismatic new poster of the Wasp from IMAX.
Stitch Kingdom also has the full cast list, revealing young incarnations of several key cast members and the name of Tim Heidecker's character, "Captain Gooobler" with three O's, and a cameo appearance by everyone's favorite Marvel hero, Online Magic Instructor.
---
Star Trek 4
During a recent appearance on Andy Cohen's Sirius XM radio show, Zachary Quinto stated details concerning S.J. Clarkson's Star Trek IV will be revealed in the next few weeks.
You know, I think we're going to know more in the next few weeks actually. There is a fourth movie that's being developed right now. They've brought a director who's actually a wonderful woman who I've worked with before named S.J. Clarkson into the mix to develop and to helm that project. And so I think it's now kind of in the business, logistical kind of phase.


---
Swamp Thing

That Hashtag Show reports DC is looking to cast "someone in their late-40s to late-50s in the mold of Lawrence Fishburne or Jeff Goldblum to play a "smart, slick and cunning villain" the outlet speculates is either Anton Arcane, Jason "The Floronic Man" Woodrue or General Avery Carlton Sunderland.
In related news, the outlet also has word the production is looking to cast a "James Marsden-type" for the role of Matthew Cable, described as "the sheriff of the town and former high school sweetheart to Abby Arcane. A good guy with anger issues."
---
Luke Cage
Speaking with /Film, showrunner Cheo Hodari Coker explained whereas Luke Cage is bulletproof, Bushmaster is merely "bullet resistant."
He was directly from the Luke Cage comics as a character who actually survived the same process that made Luke so he has the same powers as Luke Cage. We tweaked it slightly differently so that we made Luke Cage bulletproof and we made Bushmaster bullet resistant, but then we also invented this thing called nightshade that will play off of the character Deadly Nightshade who of course Tilda Johnson turns out to be [in the comics]. The thing is, we kind of pick and remix all these different elements from Marvel to use the way we best possibly can in the show. There isn't really one way that we do it. The main thing that I've learned over the years is that as long as you stay in the spirit of the comics and of the character, there are a lot of different things you can do.
Coker then confirmed Tilda takes on the mantle of Nightshade in episode thirteen.
We were able to tweak the Nightshade origin story to fit our Luke Cage universe. It's different than the comics. We really wanted to tweak expectations by calling her Tilda Dillard, the whole backstory we ended up doing with her and Mariah. At the very end, there's a very specific moment in episode 13 when she finally claims the name that I think is going to be exciting for Marvel fans of the canon, but at the same time from an audience standpoint, people that like the show will say, 'Oh my God, this whole thing came full circle in a way I never would've expected.'
---
The Walking Dead
Showrunner Angela Kang has confirmed season nine includes a significant time jump.
We're playing with time in the season so we get to jump forward in the story. We come in on some pretty fun stuff.
[TV Guide]
---
The Outpost
Spoiler TV has a synopsis for the series premiere, "One is the Loneliest Number."
Talon (Jessica Green), the lone survivor of the Blackblood race, seeks vengeance on the men who slaughtered her people. Her journey takes her to a desperate Outpost on the edge of the realm where she finally confronts one of the men who killed her family. Jake Stormoen, Anand Desai Barochia, Imogen Waterhouse, Michael Flynn, Robyn Malcolm, Andrew Howard and Philip Brodie also star. Jason Faller and Kynan Griffin wrote the episode, directed by John Lyde (#101). Original airdate 07/10/2018.
---
Wynonna Earp
Spoiler TV also has the remaining episode titles from season three.
Episode 3.02 - When You Call My Name

Episode 3.03 - Colder Weather

Episode 3.04 - No Cure For Crazy

Episode 3.05 - Jolene

Episode 3.06 - If We Make It Through December

Episode 3.07 - I Fall To Pieces

Episode 3.08 - Waiting Forever For You

Episode 3.09 - Undo It

Episode 3.10 - The Other Woman

Episode 3.11 - Daddy Lessons

Episode 3.12 - War Paint (Season Finale)
---
The 100
Tensions come to a boil in the synopsis for July 10th's episode, "Sic Semper Tyrannis."
The growing fractures in Wonkru threaten to explode once and for all. Meanwhile, in Shadow Valley, Murphy (Richard Harmon) starts a fire, unleashing catastrophic results. Eliza Taylor, Bob Morley, Paige Turco, Henry Ian Cusick, Marie Avgeropoulos, Lindsey Morgan, Chris Larkin and Tasya Teles also star. Ian Samoil directed the episode written by Miranda Kwok (#509). Original airdate 7/10/2018.
[KSiteTV]
---
The Originals
Spoiler TV has the trailer for The Originals return episode, "There is a Disappearing Light."
Klaus (Joseph Morgan) helps Hope (Danielle Rose Russell) cope with her pain in an unconventional way. A figure from Elijah's (Daniel Gillies) past comes back seeking help. Elsewhere, Marcel (Charles Michael Davis) takes on the nightwalkers, while Vincent (Yusuf Gatewood) deals with the fallout of a fateful decision. Daniel Gillies directed the episode written by Eva McKenna & Jeffrey Lieber (#510). Original airdate 7/11/2018.
---
Westworld
Coming Soon has pictures from the season two finale, "The Passenger." Head over there for more.
---
Humans
Spoiler TV also has images from the season finale of Humans. More at the link.
It's a race against time to stop Basswood and Laura (Katherine Parkinson) must put her reputation and life on the line if she is going to have any hope of saving the Synths, but is she willing to give up her family and her freedom? Niska (Emily Berrington) has reached her journey's end, but when the source of the mystery is revealed, has her real journey only just begun? Mia (Gemma Chan), Leo (Colin Morgan) and Max (Ivanno Jeremiah) stand together in final battle, but will they make it out alive? And when the world learns of the atrocities that are taking place, will the fate of Synths change forever? Writer: Daisy Coulam; Prod: Vicki Delow; Dir: Richard Senior; Exec Prods: Derek Wax, Emma Kingsman-Lloyd, Sam Vincent, Jonathan Brackley; Prod Co: Kudos in assoc with Wild Mercury
---
The Handmaid's Tale
Finally, the trailer for next week's episode of The Handmaid's Tale is—try to be surprised—bleak as hell.
---
Banner art by Jim Cooke.