Forty years ago, the opening crawl of the original Star Wars revealed the Rebels' had just won "their first victory against the evil Galactic Empire." Given that we knew a major battle would be ending the third season of Star Wars Rebels, that presumably meant things in the finale probably weren't going to go well for our heroes. They very much didn't.
"Zero Hour," the two-part finale, was packed with the kind of parallel action we've come to expect from Star Wars finales. Fights simultaneously happening on the surface and in the air, with daring escapes, plenty of destruction, and a whole lot of luck. The episodes simply looked and felt like Star Wars. But unlike the films, these Rebels suffered a different outcome. It turns out that despite a valiant effort, as well as the combination of multiple Rebel cells, the rebellion was ill-equipped to defeat Grand Admiral Thrawn and his sizable Imperial army. They lost in spectacular fashion. Some of the Rebels managed to escape, but that was the closest thing to success they could muster.
Despite the efforts of Commander Sato (who gives his life in the battle), General Dodonna, and Hera Syndulla, Thrawn's army—just a small sliver of the Empire's power—is too much to for the nascent Rebellion to handle. In fact, if it wasn't for Ezra bringing Sabine back into the mix, they probably would've all died.
G/O Media may get a commission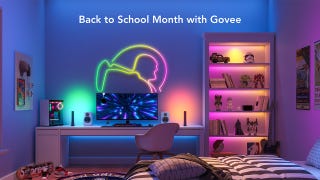 Back to School
Back to School Month with Govee Sale
That said, while it wasn't packed with mythology or major revelations, "Zero Hour" makes it clear that Rebels has a lot more story that needs to be told. The events of A New Hope are drawing nearer. It was revealed that the Rebels are fleeing to Yavin, their base as seen in both Rogue One and A New Hope. Given what we know from the movies, it's likely that next season of Rebels could feature more appearances from Mon Mothma, Bail Organa, as well as Princess Leia. Maybe even a few Rogue One stars as well.
But that's all to come. In the end, after a hugely impactful penultimate episode of season three, the Rebels finale was really about wiping the slate clean and setting the table for what's next. And what's next is the Rebellion starting over basically from scratch, and for the real fight against the Empire to begin.
Also, I'm calling it now. I have zero knowledge about this but I would be shocked if Cassian Andor doesn't play a role in Rebels season four. He kind of has to, doesn't he? And if that happens, maybe we'll get K-2SO as well. Their appearance would at least be some consolation after the Rebels suffered such a crushing defeat.