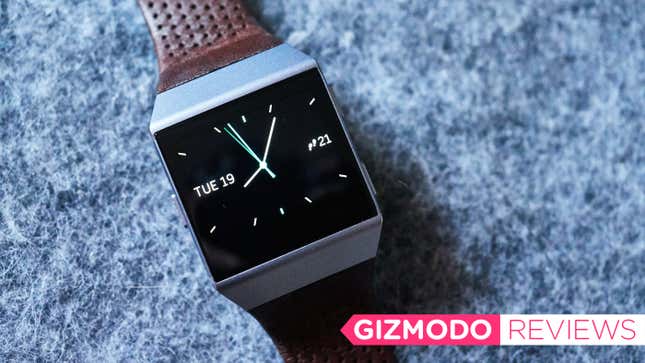 The "Your Fitbit Ionic is running low on battery" notification arrived on my phone and in my inbox at the same time around one yesterday afternoon, suggesting I take a moment to charge my smartwatch. Instead, I went to a couple of meetings, took the train home, went for a brisk walk with the dog, and made dinner. When I glanced at the watch again eight hours later, I'd lost only three percent of my battery. Fitbit has solved the most critical problem of smartwatches by making a device with battery life so good you can excuse a whole melange of flaws. If every smartwatch lasted as long on a charge, we'd be in a whole new era of wearable computing.

Apple's Vision Pro Seems Powerful, But Who Is It For? | Future Tech
The Fitbit Ionic isn't Fitbit's first attempt at a smartwatch. Early last year, it released the Fitbit Blaze, a hideous Apple Watch competitor that had solid battery life and fitness tracking, but lacked pretty much every other feature one would expect from a smartwatch, like the ability to customize notifications or even check the weather. The $300 Ionic is a much more capable device that corrects some of its predecessor's problems, but it's so unattractive and plagued by small software bugs that if it didn't have such stellar battery life, it'd be a waste of cash.
Crappy battery life is the greatest failing of most smartwatches. If you have to charge a watch every night, then you're losing out on cool features like an alarm clock or sleep tracking. Worse, though, is that you're tethered to the charger, and being tethered to the charger with a smartwatch is nothing like it is with a phone. You see, smartwacthes aren't a necessity, they're a luxury, so charging one every two days feels more like a burden than a routine chore. By contrast to the constant charging required by my Apple Watch, the 6-7 days of battery life I get with the Ionic feels practically hedonistic. I've worn this watch every day for nearly a month now, stopping once a week to juice it up for an hour. I've slept, sweated, and showered with the thing, and I've grown accustomed to the sight of it, desperately missing it when it's gone.
At first, I hated the sheer ugliness of the design, which echoes the hyper masculinity of a huge rich guy watch. The Ionic is, without a doubt, one of the ugliest smartwatches available right now, and no band can gussy up the huge black square of the display and bezel. It's a shocking eyesore that never quite looks at home on a wrist, especially a smaller wrist like mine. While I'm sure women were involved in the design of the Ionic, their influence isn't clear in the final design.
But after a month, I've stopped noticing. I never have to take the Ionic off so I've gotten used to the way it bulges off my wrist like wart, and the way it pinches when I wear it low on my wrist and try to do a push up. I've even gotten used to the weight of it—at 1.76 ounces it's far heavier than the 1 ounce 38mm Apple Watch I usually wear daily.
Besides nearly a week of charge, the Ionic does a serviceable job with notifications, phone calls, and heartrate tracking. Sure, not all my apps send notifications (Fitbit OS doesn't even support reading texts), and if I hit answer when a call comes in, I then have to scramble to find my phone as my mother shouts "hellooooooo" over the tinny phone speaker.

The apps the Ionic supports are largely worthless if they aren't related to fitness. That said, fitness fiends will find a lot more to be happy about. Being guided through a workout or breathing exercise is easy, and the wealth of information you get in the Fitbit app on your Android or iOS device is more detailed and easier to read than anything you'll find from Apple or Google. I can spend what feels like hours drilling down and staring at my sleep and heart rate info on the Fitbit app, looking at what my heart was doing as I jogged up the stairs or suffered some funky sleep, and that simply isn't possible with other fitness apps.

Beyond the myriad fitness applications (including fan-favorite, Strava), there's a Starbucks app that gives you a little barcode to pay for stuff after you first set it up on the phone, and a payment app, if you want to attach your credit card and the place where you're buying your Arizona Tea accepts NFC payment (many places, including Starbucks, do not). There are two music apps, one lets you sideload your own music like it's 2008, and the other lets you listen to Pandora... like it's 2008.
There's also a weather app, but I have not been able to use it in the month I've had this watch. Every time I've tried to open it, the watch tells me I needed to add my location via the phone, but the phone never let me add my location. The first time I tried, the device's software I was still on an early beta. Yet, Fitbit sent out a big update to reviewers late last week, which promptly broke the device. It took four hours to get it working again, and even now, I can't access or adjust apps because the watch can't stay connected to the phone. This is, admittedly, a brand new occurrence—I had nearly a month of no issues beyond the weather hiccup. I've been working with Fitbit to resolve the issues, but it has me a little worried about what the future of smartwatches looks like at Fitbit.

After the failure of the Blaze, Fitbit went out and bought Pebble's smartwatch business, along with its solid app platform. The software powering the Ionic and at the root of Fitbit's planned app "gallery" is based on what Pebble created, which is why the bugs of the Ionic are so surprising. In its years of existence, Pebble developed a very reliable and mature ecosystem of apps that rivaled the Apple Watch—even if Pebble device sales never did. Fitbit could achieve that kind of excellence, but it simply isn't there yet. This software still feels buggy as hell, and I'm curious if it can get to the place it needs to be when the Ionic ships next month. A smartwatch isn't a video game—which are almost always buggy on release. A smartwatch needs to work perfectly on day one, and the Fitbit Ionic just isn't there today.

It's too soon to cry doom. If Fitbit can iron out the software kinks, that strong battery life and great fitness capabilities will make the Ionic a healthy rival for the Apple Watch.
README
Incredible battery life makes it easy to overlook other flaws.
The fitness tracking is the best available at the moment.
You can store music and credit card numbers easily. Swipe down for music and long press the power button to access cards.
A variety of other apps remain unseen as the Ionic struggled with a recent update. An inconsistent consumer experience means you should probably wait before you buy.
Unlike the Apple Watch the Ionic works with Android out of the box.