Hollywood has been trying to remake Logan's Run for years, and today, a new creative team has reportedly locked a deal to do just that. Simon Kinberg (X-Men: Dark Phoenix) will apparently direct, and the news also says he's "currently writing a forthcoming Star Wars movie."
Well, that's an interesting tidbit. (Back to Logan's Run in a second.) Kinberg was announced as writing a Star Wars film way back in 2012, soon after Disney bought Lucasfilm. Though it was never confirmed, most people assumed it was the Boba Fett movie that was put on hold when Josh Trank left the project. In that time, Kinberg remained close with Lucasfilm, consulting on Star Wars: The Force Awakens and producing and writing for Star Wars Rebels. If Deadline, which first reported this Logan's Run news, is right, it sounds like the Boba Fett film could be back on—or news of other upcoming Star Wars movies could be imminent.
We contacted Disney and Lucasfilm for potential comment and will update if we hear anything.
Okay, back to Logan's Run. Deadline reports Warner Bros. has just closed a deal with Kinberg to direct the remake from a script by Peter Craig, who adapted The Hunger Games: Mockingjay Parts 1 and 2. The original Logan's Run came out in 1976 and was adapted from the 1967 novel by William F. Nolan and George Clayton Johnson. The premise is a dystopian future where balance is kept by killing everyone when they turn 30. That is, until, a character named Logan decides to, well, run—that's a simplistic way of putting it, but you get the basic idea. The original film starred Michael York as Logan 5, but the remake will change things up by having a female lead.
Kinberg is currently finishing the new X-Men movie, Dark Phoenix, so you'd imagine Logan's Run would happen after that. And in between finishing one big movie and starting another, when he'd even have time to write a Star Wars movie is anyone's guess. But if there's one thing movie fans know about Kinberg, it's that he's excellent at multi-tasking. (Just look at his IMDB page if you don't believe us).
G/O Media may get a commission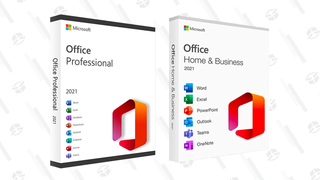 89% off
Microsoft Office Professional 2021 Lifetime License
Lots of news packed into one story for a Friday afternoon.
[Deadline]