Sometimes I think Dubai exists in its very own dimension, an alternative over-the-top world where everything has to be the best of the best. This amazing photograph by Gerald Donovan is proof: the biggest and tallest firework show in the world, shot on New Year's Eve 2013 at the Burj Khalifa, the highest man-made structure in the world at 2,722 feet (829.8 meters).
Gerald told us how he shot it:
It was taken from The Address Downtown on the 40th floor. Phase One IQ180 medium format digital back (80 megapixels) on a Hartblei HCam which pairs the sensor up with a Canon 17mm TS-E lens. This gives the widest possible rectilinear field of view on a medium format sensor. Basically, an impossible shot with any other kit.
He sent us two more photos, taken as the show was starting:
G/O Media may get a commission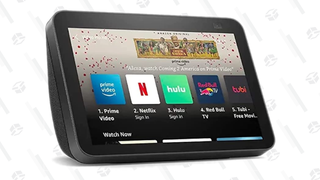 Here's the official video of the show. It's crazy.