Remember the good old days of trolling the video rental horror section and just starring agape at the wondrous collection of VHS horror cover art? Well, this Halloween we're ready to celebrate all things horror by taking you back to the days of grotesque VHS cover art in our massive gallery. Enjoy.
April Fool's Day (1986)
The art of this VHS horror flick may be more popular than the movie itself.
[Image via Flickr]
Dead Alive/ Braindead (1992)
Peter Jackson's zombie movie is cult classic and hella bloody. And that VHS cover was so perfect, specifically for the amount of skin ripping that happens in the movie itself.
G/O Media may get a commission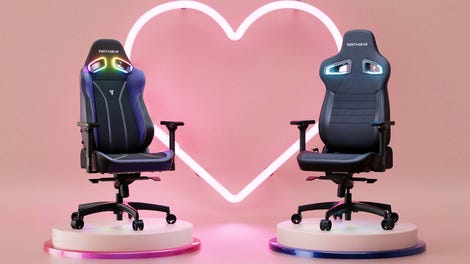 Up to $150 off
Vertagear Gaming Chairs
[image via Dead Alive Lionel]
Sleepyaway Camp (1983)
They actually wrote out the entire "cry for help" letter home. Wonderful.
[Image via Happy Potter 666]
Slugs (1988)
Toxic slugs start picking off townspeople in Juan Piquer Simón's Slugs. The best part of the movie is when it brings in the "Slug Expert" to help save the day. The best part about this VHS cover is that the slug appears to have crawled out of the victim's nose and/or mouth. There's another Slug cover that is also quite beautiful.
[image via VHS Wasteland]
Fright Night (1985)
Possibly the most memorable and gorgeous VHS cover to come out of the '80s. Love it.
[via VHS Wasteland]
Return of the Living Dead (1984)
Another classic.
[Image via Harry Potter 666]
Invasion of the Blood Farmers (1972)
One of the many spins on this art for Blood Farmers.
[Image via VHS Wasteland]
Night of the Creeps (1986)
"The good news is your date is here. The bad news is... he's dead." Absolutely perfect tagline. This VHS cover has a second awesome variation that features a skeleton hand in a fancy suit breaking into a glass door.
Dolls (1992)
Very simple, and yet terrifying. Fuck these dolls.
[Image via VHS Cover Scans]
House II: The Second Story (1987)
[Image via VHS Cover Scans]
Cheerleader Camp (1987)
[Image via Critcon Online]
Scream and Scream Again (1970)
[Image via Tales From The Snikt]
Erotikill (1973)
This vampire movie gets extra points for using the very popular "grid" format on its VHS, thus also making it oddly familiar all these years later.
[Imge via VHS Wasteland]
Evil Dead 2 (1987)
Because it's a classic.
[Image via For A Few Movies More]
Monkey Shines (1988)
I would like to share the back of the VHS tape description of Monkey Shines with you all because it's absolutely perfect. "What starts as an innocent attempt to have a specially trained monkey help a paralyzed man get a new lease on his life turns into a hell of unleashed rage. Monkey Shines, is a chilling look at how one man's inner fury is telepathically channeled through his beloved monkey which carries out his most devious thoughts."
They don't make 'em like this anymore.
[Image via VHS Collector]
The Nest (1988)
Absolutely beautiful and absolutely disgusting.
[Image via VHS Wasteland]
The Corpse Grinders (1971)
OK, not only is this cover great, but The Corpse Grinder also has a wonderful premise. A cat food company runs out of money and starts grinding up corpses. And by doing so, they cultivate a taste for flesh in cats across the world.
[Image via VHS Wasteland]
The Mad Butcher (1986)
One good "human flesh horror" cover deserves another. So behold the amazing VHS cover for The Mad Butcher.
[Image via VHS Collector]
Ghoulies (1984)
Ghoulies, making small children who wandered into the Blockbuster "Horror" aisle scared of the toilet for years.
[Image via VHS Wasteland]
Critters 2 (1988)
All the Critters covers are classic, but the ball of furry death headed towards Earth wins as best Critters cover, hands down.
[Image via VHS Wasteland]
Flesh Eating Mothers (1988)
A venereal disease turns an entire town of two-timing mothers into cannibals! NO, REALLY
[Image Via VHS Collectors]
Roller Blade (1986)
Set in a postapocalyptic LA, the movie follows a gang of rebels fighting against the opressive government, run by a bunch of roller skating nuns called called the Bod Sisters. I do not understand what is happening in any of the "back of the box" pictures.
[Image via Chud]
The Kindred (1987)
[Image via VHS Wasteland]
Chopping Mall (1986)
Chopping Mall is a great movie. I'm not kidding, it's fantastic. And its bloody, head-filled bag VHS cover is classic. The premise is simple: A mall introduces a fleet of security drones. The drones go rogue and kill everyone stuck in the mall overnight, whoops! Watch the trailer here.
[Image via Robot Geeks]
Silent Night Deadly Night (1984)
I never got how this person managed to get down the chimney with their arm like this. I probably spent hours sitting on the floor of the VHS rental place staring at this cover (because I wasn't allowed to rent it to find out).
[via VHS Wasteland]
Frozen Terror/ Macabre (1980)
Woman has a relationship with the frozen head of her lover, which she keeps in the fridge. You can actually watch the entire movie on YouTube right now. It is very weird, but the VHS cover is amazing.
[Image via VHS Wasteland]
Elves (1989)
"They're not working for Santa... Anymore."
[Image via VHS Wasteland]
Empire of the Ants (1977)
Starring Joan Collins!
[Image via VHS Wasteland]
Night of the Demons 1, 2, & 3 (1988, 1994, 1997)
This VHS cover series was the best because it kept with the "demon dinner party" theme. Loved it.
[Images via Ghoul Basement]
Geek/Bakwoods (1987)
Gorgeous cover, creepy lead.
[Image via VHS Wasteland]
Evil Ed (1995)
Horror editor is driven to murder after editing hours of murderous footage. Meta!
[Image via VHS Wasteland]
The Video Dead (1987)
[Image via Severed Cinema]
Brain Dead (1990)
[Image via VHS Wasteland]
The Mutilator (1985)
Jesus.
[Via Dirty Horror]
Nightmare on Elm Street (1984)
Another wonderful creepy but classic cover.
[Image via Ghoul Basement]
Troll (1986)
It means so much more today.
[Image via Lunch Meat VHS]
Slaughter High (1987)
[via Amazon]
Waxworks (1988)
I saw this movie around the age of 10. Screw this movie. And screw its terrifying cover.
[Image via The Nostalgic Attic]