You can get comprehensive lists of everything coming to streaming services anywhere. But half of those titles you don't care about, and the other half are terrible. Where's the good stuff? io9 is here to help.
Below you'll find what we deem to be the best scifi and fantasy movies and TV coming to Netflix, Amazon, and Hulu in July.
---
Netflix
Available July 1
Finding Neverland - This Johnny Depp/Marc Forster joint is an underrated fantasy that got its own Broadway adaptation. It's great if you want a good cry.

G/O Media may get a commission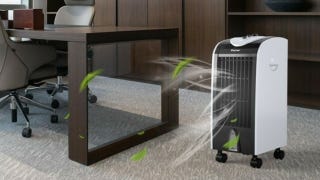 Save $10
Evaporative Portable Air Conditioner Cooler with Filter Knob
Interview with the Vampire - Tom Cruise, Brad Pitt, and Kirsten Dunst star in this adaptation of the classic Anne Rice novel. It still feels like one of those "I can't believe that movie actually happened" things. But it did and you can't take your eyes off it.
Jurassic Park, The Lost World: Jurassic Park, Jurassic Park III - With Jurassic World: Fallen Kingdom in theaters, Netflix is bringing the first trilogy to streaming. And, though the second two aren't great, you can just watch the first one over, and over, and over again.
Stealth - From the director of xXx and The Fast and the Furious comes this so-bad-it's-good scifi actioner starring Jamie Foxx, Josh Lucas, Jessica Biel, and an A.I.-powered drone that goes dangerously rogue.
Swordfish - John Travolta, Hugh Jackman, Halle Berry, and Don Cheadle star in this crazy movie about hackers that, honestly, isn't great, but the opening scene alone, and the techno soundtrack, make it worth a stream.
Van Helsing - More Hugh Jackman! This time, in his big-budget attempt at starting a Dark Universe long before that was cool. Again, this isn't a good movie, but it's perfect for streaming, cause it's big, dumb, and fun.
July 22
Bolt - Bolt came out before the most recent resurrection of Disney Animation but really feels like it should have come after. It's a heartfelt, super cool, and underrated animated animal adventure. If you've never seen it, check it out.
July 29
Her - Spike Jonze' poignant and beautiful exploration of A.I. and loneliness stars Joaquin Phoenix and Scarlett Johansson and is one of the best scifi movies in years. And now, you can watch it anytime you want.

Amazon
Available July 1
A.I. Artificial Intelligence - Steven Spielberg's interpretation of Stanley Kubrick's vision never gets quite the respect it deserves, but it's well worth the revisit. It's a fascinating, nuanced work of art. Also available on Hulu.

Killer Klowns from Outer Space - Delivering exactly what the title promises, Killer Klowns is kind of the perfect streaming movie. You can watch it and enjoy yourself, or put it on in the background and look at the screen every so often and smile at the insanity. Also available on Hulu.
Maximum Overdrive - Emilio Estevez stars in this Stephen King adaptation about trucks that come to life and try to kill people. It's not very good but it's a crucial piece of King history because it has something very important over every single other King adaptation: The author actually directed it. It was his first, and last, attempt. Also available on Hulu.
Mulholland Drive - David Lynch's sultry, mysterious, and wonderful exploration of Hollywood and celebrity isn't really scifi, but maybe it is? Depends on how you choose to interpret this weirdly awesome movie, which is exactly what you'd expect from Lynch.

Pee-Wee's Big Adventure - "I know you are but what am I!" Tim Burton's debut feature is still as perfect today as it was over 30 years ago when it was released.
Sahara - Matthew McConaughey stars in this wild, desert-set action movie that is very dumb but also very entertaining. The biggest problem with it is that after you watch it, you just wish it was just a little better. Also available on Hulu.

The Adventures of Buckaroo Banzai Across the 8th Dimension - An essential piece of '80s science fiction that's just totally freaking rad. And, with it streaming this month, it's a great time to expose it to other generations. Just don't get them excited for the long-promised sequel. Also available on Hulu.
The Brothers Bloom -Before Rian Johnson made a Star War, he made this wily caper film starring the Hulk himself, Mark Ruffalo, alongside Pacific Rim badass Rinko Kikuchi and Oscar winners Rachel Weisz and Adrien Brody. If you've never seen it, now is your chance. Also available on Hulu.
The Monster Squad - Six kids team up to battle Dracula, Wolfman, the Mummy, the Creature, and Frankenstein. In my mind, The Monster Squad is an underappreciated 1980s masterpiece. Also available on Hulu.
V for Vendetta - Natalie Portman and Hugo Weaving star in this absolute stunner of an Alan Moore adaptation. Truly one of the best comic book movies ever.
Hulu
Available July 1
Bill & Ted's Excellent Adventure - Before the third film goes in front of cameras, you can enjoy this most excellent original tale of two dudes from San Dimas who travel back in time.
Bloodsport - Do some real Van Damage to your eyeballs by watching one of Jean Claude Van Damme's best films; as advertised, it's an ass-kicking action extravaganza.
Clue - The star-studded board game adaptation is as funny and quirky today as it ever was.

Jeepers Creepers - A solid horror film that spawned several sequels, though none measure up to the exciting original. Also available on Amazon.
The Manchurian Candidate - We prefer the original, but this Denzel Washington/Meryl Streep/Jonathan Demme remake of the 1962 brainwashing classic is pretty solid on its own.

Masters of the Universe - Dolph Lundgren as He-Man? Perfect. Frank Langella as Skeletor? Awesome, but less perfect. This movie? Horrible, but in a very memorable way.
Midnight in Paris - Woody Allen doesn't make a lot of movies that io9 would cover, but Midnight in Paris, a delightful time-travel love story, definitely qualifies.

Mimic - One of Guillermo del Toro's early films, Mimic shows plenty of glimpses of his eventual greatness. It's also creepy as fuck.
The Phantom - Billy Zane stars as the title character of this weird 1990s superhero film that has since developed a cult following since its release. Or maybe people just like it ironically.

The Rundown - Before he became the biggest action star on the planet, Dwayne Johnson made what still may be his best film, this action-packed roller-coaster ride that co-stars Christopher Walken and Rosario Dawson.

July 6
Teen Titans Go!: Complete Season 4B - More from one of the best and most beloved superhero shows out there.

July 10
Zombie Spring Breakers - Honestly, I have no idea if this movie is good but that title says it all, doesn't it? I just wanted those words in this article.
July 25
Castle Rock - This Stephen King/J.J. Abrams collab starts in July and though reviews aren't out yet, this intriguing-sounding new series is certainly worth keeping an eye on.