The io9 Halloween Costume Show is in full swing over in our Flickr group. Here are some of spine-tinglingly awesomest costumes you've posted so far.
There are also tons more amazing, gorgeous, and sexy costumes over in the Costume Show - check them out, and post your own! (You can only post pictures of yourself, though.) Show us your costumes from the past, or give us a peek at what you're working on for Halloween this year! We'll post more great costumes next week.
via io9 Halloween Costume Show
Top image: Have I raised the Witch in Left4Dead or am I witnessing the scariest cosplay I've ever seen? Holy crap, RimHooves, that is a terrifying look. The claws!

Destro and the Baroness, brought to you by laraelisesteele. Love those rivets in Destro's neck.

G/O Media may get a commission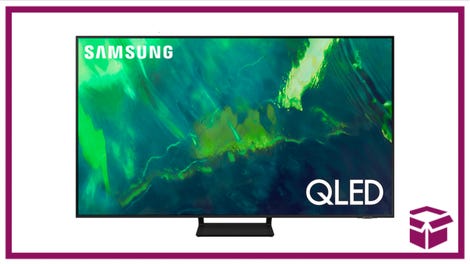 35% off
Samsung Q70A QLED 4K TV
Save big with this Samsung sale
If you're ready to drop some cash on a TV, now's a great time to do it. You can score the 75-inch Samsung Q70A QLED 4K TV for a whopping $800 off. That knocks the price down to $1,500 from $2,300, which is 35% off. This is a lot of TV for the money, and it also happens to be one of the best 4K TVs you can buy right now, according to Gizmodo.
Lord Starkiller, I presume, visualvrtx?

Mass Effect 2 crew, from ammnra.

Is it really a good idea to intermingle the world of Nightmare Before Christmas and Toy Story 3? I must admit, usc_imangineer, the result does look awfully cute.

This entirely handmade Xena outfit, created by BrassIvyDesign, looks fantastic. Damn, I miss Xena!


Rogue is looking both classic and totally badass. Those boots! Thanks SkyJammer, for sharing the pure win.