The panels and events at San Diego Comic-Con are only part of the story. Every year, companies spend millions of dollars to market to this captive audience of fans. Some of it is pretty clever. Some of it... is horrible. Here's the worst badvertising, and the best radvertising, of Comic-Con 2015.
Badvertising
Insurgent Toilets
Fans of the Divergent books, help us out: do toilets play a large role in the storyline of the sequel, Insurgent? Cause it's not ringing a bell with us. Even if there is some kind of hidden association here, it's never a good thing to have people associate your movie with using a toilet. (Which doesn't even work properly.)
G/O Media may get a commission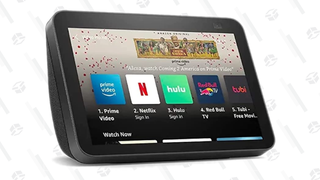 The Sharknado 3's Ennui
On the one hand, kudos to Sharknado for embracing the inherent insanity of their premise. On the other hand, it strikes us as just a bit lazy and lackluster. There are always a lot of teams like this wandering the streets of San Diego — you'd think the people who named their movie Sharknado 3: Oh Hell No would have a bit more to offer. Similarly lazy? The Vinenado (kill me) and Singnado booths they had.
These Sexy Toys
The sexy costume plague has mutated! The toys are infected!
The Strain VR Experience
People expect lines at Comic-Con. But there's so much to do that there had better be something great at the end of a long line. By all accounts, The Strain experience did not deliver. Hours of waiting for a few minutes of a scripted experience that ends with the viewer infected by a giant tongue. Nope.
The Robot Chicken/KFC Treasure Hunt
Stare into the eyes of these terrifying Colonel Sanders cosplay figures. Which one scares you most, the unicorn? The anime schoolgirl? Or the absolutely still relevant "What Does the Fox Say?" In person, they were utterly terrifying:
Technically, these abominations were wifi enabled and posing with the life-sized nightmares and tweeting the photo got you the chance to win a—wait for it—T-shirt. Of course, then you'd have to get up next to one of these.
Living Models For That "Tattooed Amnesiac" Show Blindspot
You couldn't look anywhere at Comic-Con without seeing the naked tattooed body of Jaime Alexander from her new show Blindspot. But there were also scantily clad tattooed models wandering around—the "Text Blindspot to [Number]" fake tattoo right above her chest is part of what makes it really weird.
Playboy Bunnies Rep Self/Less
Even if it wasn't that successful at it, Self/Less wanted to be a taut thriller about the ethics of a rich man using money and power to put his mind in the body of a younger man. And so ... a Playboy party.
Oh, Hillary. No.
Radvertising
Damien Counterprotests Comic-Con
The PR person who did this is a freaking genius. Comic-Con is always picketed by placard-wielding evangelizers trying desperately to get the crowds to repent their sins and accept Jesus Christ as their lord and savior. Making pro-Antichrist posters to promote the A&E series Damien is perfect and allowed the Damien marketing mob to stand out from the large number of pack-based advertising.
Fear the Walking Dead Sign
Zombies were everywhere this year, but Fear the Walking Dead stood out from the pack with a giant sign for Los Angeles graffitied with "Fear starts here." It loomed over the crowds trying to get to the convention center all weekend and, combined with a zombie run in an abandoned church, people were buzzing about it all weekend.
Gotham Releases the Penguins
If you're going to blanket the street with people, definitely go with the only character people both like and can easily recognize.
Scream Queens Scream for Ice Cream
Fox went all out with Scream Queens, with a ride that dropped screaming people all con long. But for our money, the "Ice Cream for Scream Queens" carts won for a) the pun b) having ice cream on a warm summer day c) the dead sorority girls.
Minecraft Maze

Got to love anything that effortlessly recreates the the look of the game while being a blast to run through.
Ash vs. the Evil Dead Trailer
Everyone talked about the recreation of Ash's trailer on the floor all weekend — which was supremely confusing because there was also a video trailer that came out. But we've always wanted to try the chainsaw on for size, and this gave us the chance.
Dark Souls 3 Gushing Statue
Apparently, this was also on display at E3. Still awesome.
Expanse Cafe
Every year, Syfy takes over a cafe in the Gaslamp and turns it into something amazing. In years past, it has been a scene right out of Eureka, Defiance, and Ascension. This year, Syfy turned the Hard Rock Cafe into the asteroid belt of its new show The Expanse. Inside, the cafe explained the setting of the show — based on Leviathan Wakes — and the history of the three powers that hate each other: Earth, Mars, and the Belt.
Colony Uber
If there is one thing people at Comic-Con love, it's free transportation. After a day of standing in line, walking the floor, or running from room to room to make a packed schedule work, a free Uber ride is going to be fondly remembered. Kudos to Colony for doing that and filling the vehicles with military men in red berets.
There's no way we got everything, let us know in the comments what you saw that was awesome/awful.
Sharknado image: Denis Poroy/Invision/AP; Playboy's party for the movie Self/Less: Chelsea Lauren/Getty Images; Colony Uber image: Uber San Diego. Additional reporting by Charlie Jane Anders.
---
Contact the author at katharine@io9.com.