Admit it. You've always wanted to own A Nightmare on Elm Street sweater. It's the perfect, subtle wink and nod to something dark and scary. Well, now you can not only own one of those, but sweaters featuring two other famous boogeymen.
Mondo has gone back to its apparel roots, to release three officially licensed sweaters (and two scarfs) themed to three of the most iconic horror characters in history: Freddy Krueger from A Nightmare on Elm Street, Jason Voorhees from Friday the 13th, and Michael Myers from Halloween. The Freddy one is exactly what you'd think, his trademark green and red stripes. The other two are way gaudier, but no less awesome.
You can get them all at this link. Check out the photos below.
G/O Media may get a commission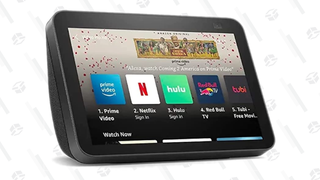 ---
Contact the author at germain@io9.com.