Remember the young Russian photographers who illegally climbed the Great Pyramid of Giza a few months back? They're back, fresh off a month-long Eurotrip which took them to the Cologne Cathedral, Gaudi's Sagrada Familia, and at least one police station. And the photos they brought back will make your palms sweat.
Though they're usually referred to as "crazy Russian teens" online, the climbers are named Vadim Mahora and Vitali Raskalovym, and they seem like they might be in their early 20s. Their jaunt in Giza gained them international fame and, as it turns out, a handful of sponsorship deals to fund their high-altitude hijinks—which puts "illegal urban mountaineering" somewhere between Razer scooter freestyling and powerbocking on the extreme sports sponsorship spectrum.
This summer's trip took them to 12 European cities, thanks to support from a European cellphone network and a handful of other sponsors. How did it go? They loved Paris, hated Frankfurt, and got arrested in Warsaw. Check out some highlights from Mahora's long Live Journal post below.
Warsaw was, seemingly, their favorite stop. Even though it was the site of their first arrest, the cops were "good guys," in Mahora's words. "[They] even spoke some in Russian (from the time of Czechoslovakia), it helped us to find common ground to avoid prison and heavy fines."
G/O Media may get a commission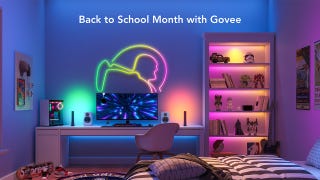 Back to School
Back to School Month with Govee Sale
Frankfurt lured the duo with the promise of skyscrapers, but seemed to disappoint because of its overzealous security guards:
Here's Cologne, which was included only for its Cathedral—once the tallest building in the pre-Modern world:
The duo made a detour on the road to Paris from Cologne to find a "legendary machine," the Bagger 288. The Bagger was—until recently—the largest wheel excavator on earth. For scale, the diameter of this rotor is 65 feet:
Then they were off to Paris, which seemed to rank as a favorite:
In Barcelona, they climbed the construction crane atop Antoni Gaudi's masterwork, the Sagrada Familia, which is still under construction after more than 130 years:
Then it was on to the Spanish resort town of Benidorm, where they arrived too late to find a hotel. Obviously, they just climbed the tallest and slept on the roof:
See the full set of images here.