Why cosplay when you could look like you've just stepped straight from the pages of a comic book? Lianne Moseley's wonderful makeup creations transform people into superheroes that look more at home in comic pages than they do in the flesh.
Header Image Credit: Neil Zeller Photography. All images credited as such unless otherwise stated.
Although Moseley's makeup work doesn't quite hit the eerie perfection of looking just like a drawing like the makeup art we've featured before, the pictures do achieve a similar sort of surreality - to see big, bold colouring and thick inky lines on an actual person's body. It's less an emulation of a comic page, and more like a 3D comic character coming to life off the page into the real world. It's bizarre, but also kind of cool.
That said, when comic book stylisation meets actual human elements, like this open-eyed Green Arrow below, it can be a little bit freaky:
G/O Media may get a commission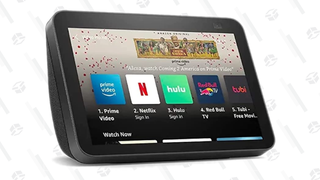 Image credit: Lianne Moseley.
Okay, a lot freaky. AHHHHHH CLOSE YOUR EYES AND LOOK LIKE OLLIE AGAIN PLEASE.
You can check out more of Lianne's work on her facebook page.
[via Comic Book]
---
You're reading Toybox, io9's blog for all things pop culture. From merchandise to awesome fan creations, TV recaps and critical commentary on the hot topics of the day, you can find it all here!