Hannibal may have been cancelled after its third season, but the very gruesome, proudly pretentious, and darkly hilarious show died knowing its place was secure in the cult TV pantheon. Now, fans (or "Fannibals") can bid in an online auction of props, costumes, and weird ephemera from the series.

The auction is currently live, with bids closing April 4 through 8. We went through the lots (there are over 1,250 items) and picked out our fantasy haul.
The top-ticket item as of this writing (current bid: $1,200) is the "Wendigo" bust, from the first episode of the second season:
Will Graham's (Hugh Dancy) haunting manifestation of Hannibal Lecter (Mads Mikkelsen) appears as the ancient beast representative of cannibalism. Will sees the phantasm arise from a river during a hallucination.
Though several of Hannibal's flashy suits (and lots of other clothing items, many soaked with stage blood) are on offer, we'd rather attend a dinner party modeling the dress that Bedelia wore in the final scene of the series' last episode:
G/O Media may get a commission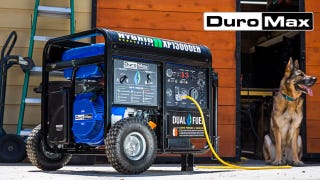 Black Friday Sale
DuroMax Generator Sale
The same lot also includes the earrings and sweater that Gillian Anderson wore as part of this costume—but thankfully not Belinda's carefully prepared leg meat.
And here's the wheelchair that poor old Dr. Chilton was glued to before Francis "The Great Red Dragon" Dolarhyde chomped his lips and set him ablaze.
Bedelia and Hannibal's bathtub, a frequently-used prop during the Italian scenes. Comes complete with stage-blood stains around the drain.

One more from season three: the Lecter family crest, as seen on a gate when Will goes poking around Hannibal's ancestral home.
One of the stage knives used during season two's thrilling blood-gusher of a finale, "Mizumono."
There's a lot of cave bear stuff from season two, for all the cave bear enthusiasts out there.
For the chef who has everything: Hannibal Lecter's recipe box.

On season one, Abigail Hobbs finds human hair stuffed inside this pillow. In actuality, "this pillow is constructed of faux leather and stuffed with brunette synthetic human hair." Still, your guests don't have to know the truth!
See all of the above items, and more (including a lot of clothes and paper props, plus some really gross special effects pieces), at Prop Store, which is hosting the auction. Glass of red wine optional.