If it hit you this weekend that maybe, possibly watching soccer isn't really your thing, perhaps this is your way to get a piece of the World Cup action: See how two designers visualize each match in a poster created during the time it takes to play each game.
The site 326490 launched last week, pitting 32 designers in each country against each other for 64 matches, and allowing each person 90 minutes only (the length of a match) to create a poster. Some are visually powerful, some are poignant, some are just plain funny.
---
Brazil vs. Mexico
Here's yesterday's highly anticipated Brazil vs. Mexico scoreless 0-0 draw, drawn by Joao Peres and Eva Guerra.
---
Ghana vs. USA
G/O Media may get a commission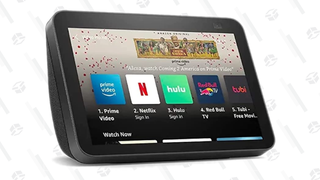 This is the USA's 2-1 win over Ghana earlier this week, as visualized by Ghanian designer Isshaq Ismail and American Lance Wyman.
---
France vs. Honduras
A clever wink at the 3-0 France vs. Honduras game, which was littered with yellow cards, by David Troquier and Frank Sandres.
---
England vs. Italy
England's Fact Studio admits defeat to Italy's Riccardo Raspa with their respective takes on the June 14 game.
---
Colombia vs. Greece
And this poster by Typozon is just plain gorgeous, celebrating the 3-0 blowout in the Colombia vs. Greece match. The Greek poster is by Dimitra Tzanos.
---
The plan is to eventually produce a book that will read like a narrative of the 2014 World Cup, which will be sold to raise money for a charity. In the meantime, however, the site will update in real time for all 64 matches. I know where I'll be watching during the final. [326490 via Creative Review]
Top images by Gilmar Wendt, Germany; Milad Moosavi, Iran; Tim Van Den Broeck, Belgium