In one of the most iconic scenes from American Psycho, murderous young turk Patrick Bateman waxes psychotic about Huey Lewis and the News. It's funny, it's weird, it's unsettling. But watching Huey Lewis and Weird Al Yankovic create the bizarro world version of that scene? Well, okay, it's all of those things, too.
The rest of this week's top web comedy videos, including chess, Vine, and a virgin, can be found over at Splitsider.
Other highlights from the week in comedy:
-Season four of Arrested Development will premiere on Netflix May 26th with 15 episodes instead of the previously announced 14.
G/O Media may get a commission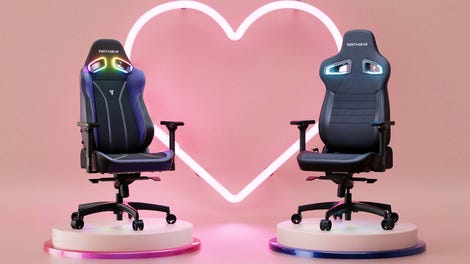 Up to $150 off
Vertagear Gaming Chairs
-It's official: Jimmy Fallon is taking over The Tonight Show in February 2014. All the major late night hosts commented on it, and Seth Meyers is the frontrunner to become Late Night's new host.
-Whose Line is it Anyway? will return on the CW July 16th.
-USA may save Happy Endings if ABC doesn't.
-We contemplated: does doing standup on a late night show still matter?
-Nasim Pedrad signed on for John Mulaney's NBC pilot, and Will Arnett is going to be in the new Teenage Mutant Ninja Turtles movie.
-We talked with SNL writer and 7 Minutes in Heaven host Michael Patrick O'Brien.
-Christopher Abbott is leaving Girls after disagreements with Lena Dunham.
-We checked in with Community season 4, reviewed ABC's How To Live With Your Parents (For The Rest of Your Life), The Don Rickles Show, and looked at the failed pilot from a follow-up series to Clarissa Explains it All.
-The Kids in the Hall's Kevin McDonald is guest writing for SNL.
-Bob Odenkirk and the Birthday Boys accepted IFC's offer of a sketch show.
-We looked at the lost roles of Marc Maron, our begrudging respect for Bob Hope, Rich Hall's time on SNL, the work of comedy hip hop duo ItsTheReal, and SNL's dress rehearsal process.
-Gallery1988 held an SNL art show.
-We published the house rules for a guy's Game of Thrones party.
-We recommend the week in comedy podcasts, which include a Radiolab special on Chicago-based improvisers TJ & Dave and Nick Kroll and Jon Hamm visiting Comedy Bang Bang for April Fools', plus the week's best Vine videos from Jamie Lee, Will Sasso, and more.
Splitsider is a website about comedy and the people who create it. It covers movies, TV shows, web videos, books and any other format that exists to make you laugh.