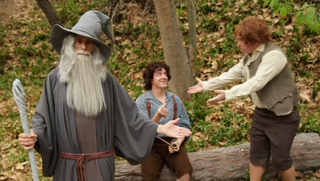 You think David Blaine is bad? It could be worse. You could be stuck with the Middle Earth street magic stylings of Gandalf. Where's your ring of invisibility when you need it?
Full video below:
The rest of this week's top comedy videos, including the Charlie Brown School of Dance, a Sugarboy, and Cat Power with kids can be found over at Splitsider.
Other highlights from the week in comedy:
- Netflix expanded Arrested Development's fourth season to 12-15 episodes.
- Stephen Colbert gave nearly $800,000 his Super PAC earned to charity.
- The Golden Globes handed out nominations to some shows that deserve it and snubbed a lot of other talented people and shows.
- We profiled Eugene Mirman and his unique approach to comedy.
- Wyatt Cenac did his last Daily Show.
- Nell Scovell wrote about the amazing writers' room for The Wilton North Report.
- We talked to Peter Serafinowicz, Late Night with Jimmy Fallon writer Dan Opsal, and Stephen Tobolowsky.
- Daniel Kibblesmith wrote about Verizon stealing one of his Twitter jokes for a viral campaign.
- We examined the relationship between mental illness and comedy.
- We looked back at The Danger Team, Richard Pryor: I Ain't Dead Yet Mother@!#%$!!, Woody Allen's pilot about an improv comedy group, and Martin Short's stint on SNL.
- A talent rep told us the truth about comedy and talent reps.
- We Follow Fridayed @CharStarlene.

Splitsider is a website about comedy and the people who create it. It covers movies, TV shows, web videos, books and any other format that exists to make you laugh.