If you're scared of clowns, it's probably thanks to It. The Stephen King book and miniseries made an entire generation terrified of painted faces and oversized red shoes. The fear is so bad that the upcoming reboot is apparently putting real clowns out of work. But none of them have met the scariest Pennywise of all: a pre-schooler.
Louie Tilghman is a three-year-old Mississippi kid who spends his free time doing cosplay photo shoots with his 17-year-old brother, Eagan. The latest shoot they did is an homage to It's new Pennywise, played by Bill Skarsgård. And damn, they did a solid job. This tot is terrifying.
Eagan has been doing cosplay shoots with his younger siblings for several months now. Previously, he's had them dress up as the Joker from Batman, Vulture from Spider-Man: Homecoming, and even Count Olaf from Lemony Snicket's A Series of Unfortunate Events. (More Pennywise, as well as more of Eagan's creativity, can be seen on his Instagram.) Eagan told me he does all the makeup and costumes for the photo shoots, usually pulling whatever he can from closets around the house.

G/O Media may get a commission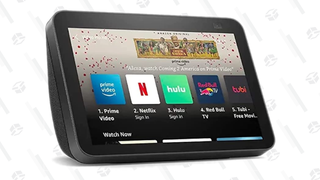 "I don't really plan them that much," Eagan said. "I'll just throw together something around the house."
But for those clutching their pearls because "the children are the future," don't worry, Louie doesn't actually know what he's dressing up as. Eagan said Louie occasionally remembers that his name is Pennywise (mostly he calls him "the clown"), but he's not going to be allowed to actually watch the movie.
I even asked Louie himself what he knows about the Clown, which happens to be his favorite costume that Eagan has put him in. His reply: "Nothing!"