Ever wonder how Spider-man's most enduring nemesis came to be? Venom's similarities to our masked hero aren't just witty script writing. They're due, in part, to a letter sent from a fan to Marvel editor-in-chief James Shooter.
Two years ago Randy Schueller recounted to Comic Book Resources that Venom evolved out of an idea Schueller sent to Marvel in the 80s when the company ran a competition for aspiring comic book writers and artists.
I thought it would be cool if Spidey needed to upgrade his powers and his look, so I came up with this idea that Reed Richards had made a new costume for Spidey using the same unstable molecules that the FF costumes are made of. The unstable molecules would flow into Peter's pores and allow him to cling to walls better. I think my original idea was to increase his sticking power by 25% or something like that.

For some lame reason, I had the Wasp involved since she was the resident fashion plate of the Marvel universe at the time. Remember when Jan would show up in every other issue of the Avengers sporting a cool new costume? I loved when they did that! So to me it made sense to have her design the new spider suit when she was over at the Baxter Building for cocktails or something. Anyway, I saw the new suit as a stealth version of the original costume - jet black so he could blend in with the shadows. At best, all you could see of him was the blood red spider emblem, emblazoned on his chest. (Yeah, in my design the spider was red, not white. I also gave him underarm webbing like in the original Ditko design.
To Schueller's surprise, a few months later he got a letter from the Marvel desk of then editor-in-chief James Shooter saying flat out, "I want to buy it," and offering Schueller $220 for the idea and the chance to write the script. He wrote up a few versions of his idea, but scripting didn't pan out and the idea, he thought, had been shelved.
A year later, Secret Wars came out, introducing a black costumed Spider-man. Shueller was surprised to see some of his concept brought to life, but when his idea then turned into Venom in The Amazing Spider-man he was disturbed. " I was never a fan of the costume-turned-villain idea. Give me the classic Ditko villains any day! Venom just never really seemed to work for me," he wrote in to CBR.
G/O Media may get a commission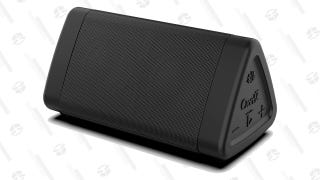 Save 31%
Oontz Angle 3 Portable Bluetooth Speaker
When Venom became such a big part of the Spiderman-3 movie, Schueller decided to bring his venomous alter-ego to light, along with the letter James Shooter personally sent to him in 1982.
While Schueller isn't looking for money from Marvel — he did get his $220 — he's bummed the comic giant never acknowledged his part in the character's creation. With Marvel's continued legal trouble as they suss out who created and now owns what of the Spider-man franchise, this two-year-old story has gained traction again.
With a Venom movie in the works, along with Spider-man 4 we wonder if Schueller will get any props from Marvel, or the movies' directors any time soon.
The secret origin of the black Spider-Man costume [Heat Vision Blog]