Summer doldrums got you down? This week's TV features some big events: Ronald D. Moore's Virtuality is finally getting aired, and teenage Spider-Man is back... and he's dating.


Monday
Spectacular Spider-Man -
High School Spider-Man is back tonight, and he's bringing you two colorful animated adventures. (G-rated, of course.) In the season premiere, Spidey and his NON-Mary-Jane girlfriend Gwen are talking about their first kiss, and whether it means anything. And the second episode has Kraven...I know which one I'm watching! Catch the season premiere on Disney XD at 7 PM.
The Crumbling of America -
Scientists and historians showcase the collapse of America's infrastructure in this two hour special, while animators give us new technologies and designs to prevent problems on the History Channel at 8 PM.
G/O Media may get a commission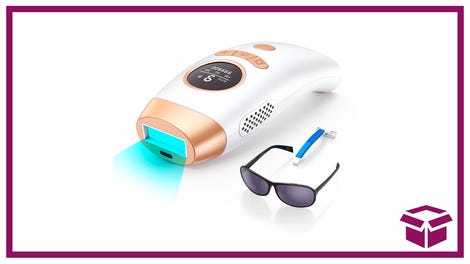 58% Off + Coupon
IPL Hair Removal Device
Movies:
Watch pre-Donnie Darko Jake Gyllenhaal, as a 1950s teen who escapes his coal mining town on a rocket in October Sky, on AMC at 5:30 PM.
If you're not into learning about 70,000+ structurally deficient bridges in America, the best bet is following security guard Ben Stiller in the live-action version of Toy Story, Night at the Museum on FX at 8 PM.
Tuesday
Life After People -
How much rain is too much? What happens when New Orleans is flooded from rainfall, corrosion destroys the Space Needle and humidity attacks the Middle East? (What do you think happens?) Tune in on the History Channel at 10 PM.
Movies:
There's a crazy thriller film marathon on television covering, in order, 1979's Dracula, followed by Steven Spielberg's Poltergeist; Sawyer/Josh Holloway in Sabretooth, and finally, the 2004 prequel to Exorcist. It all begins on AMC at 9 AM.
Wednesday
MonsterQuest -
Do dinosaurs still exist? Weighing the evidence, the show will investigate eyewitness accounts of legendary creatures. Hmmm, dinosaurs, I'd like to see the odds on finding them, compared to capturing Big Foot.
MythBusters -
Test the theory that it's impossible to pull two phone books apart, on the Discovery channel at 9 PM.
Movies:
Arguably Halle Berry 's worst post-Oscar winning decision, Catwoman, is on tonight. Seriously, with a cast that included Benjamin Bratt and Sharon Stone, this should have been so much better. Watch the incredible disappearing leather catsuit on AMC at 8 PM.
And if that's not enough bad TV for ya AVP-R (Aliens Versus Predator: Requiem) is on Cinemax at 8:15 PM.
Thursday
There's a Dark Angel marathon from 8 AM until 3 PM on Syfy Channel.
Naked Science -
Despite the fact that Earth and Venus were created around the same time, we populate Earth while the sister planet is deserted. So what gives? "Earth's Evil Twin" explores the why behind the barren planet with beautiful images of her. Naked Science is on National Geographic Channel at 10 PM.
And later, Megan Fox will hopefully transform into something on Letterman. That's on CBS at 11.
Movies:
The fight over best Bond theme continues with Timothy Dalton in The Living Daylights (representing the '80s) pitted against Pierce Brosnan in The World is Not Enough. The mini-Bondathon begins on the SciFi Channel at 6 PM.
Garbarge theme song for TWINE:


Friday:
Virtuality airs! In case you've missed it (which is very likely as FOX has apparently been trying to bury it), the show is about the crew aboard a spaceship that's equipped with a virtual-reality device/machine/version of the holodeck. What's designed to help them survive the 10-year mission becomes a problem, when a nasty virus is discovered in the system. Now they have to fix the VR and save Earth. Tough.
What 3 Things Would You Bring With You To Space For A 10-Year Mission?
Meredith: A Case Of Tequila (all for me), Some Sort Of Pet, And One Of Those Taser Guns (seems like a good idea)
Batman The Brave And The Bold -
OMAC and Shrapnel may or may not battle to the death, as long as the Bat doesn't interfere, this week on the Cartoon Network at 8:30 PM.
Saturday:
Kings -
We get to glimpse Silas outside the confines of the palace, and Rose struggles to keep her mouth shut. Watch Silas and David go a pilgrimage-ing on NBC at 8 PM.
Primeval -
A Cretaceous dino comes through the anomaly and so does a medieval knight poised to slay a dragon. It airs on BBC America at 8 PM.
Sunday:
Prehistoric Disasters -
Did an asteroid strike kill the dinosaurs? What's the deal with dinosaurs this week? Evidence of the claim is examined on the Discovery Channel at 10 PM.
True Blood -
Sookie and Bill head out to turn to their favorite vamp for help, and the show everyone thought was about Sookie really begins to turn into an ensemble. Hopefully this week we'll finally get some of Jason's behind, on HBO at 9 PM.
Movies:
Aliens - Yes, the "s" signified a whole new film, and Sigourney Weaver will remind you why she is the only constant in the Alien films. Ripley wakes up on AMC at 8 PM.
Additional writing and reporting by Caitlin Petrakovitz.