A study at USC sponsored by IBM will study "Black Twitter," trying to figure out what it means for people to form "neighborhoods" online. But has this study become a form of racial profiling, rather than just a sociological investigation?
Black Twitter, often invoked with hashtags (including, not surprising, #blacktwitter), can be loosely defined as a way for people of color to make fun of what Jezebel's Hillary Crosley called "ridiculous racial moments in American pop culture." The idea gained popularity in 2013, and in 2014 it became a place where people could share outrage and distress over political issues like Ferguson.
On Twitter, people immediately found problems with the study. First, there was the issue of the three smiling white, male faces at the bottom of the page, under "project owners."
The only person of color working on the study, Dayna Chatman, got just a tiny credit in a line of text at the top of the page. If you clicked on her name, the link took you to another list of researchers — which did not include Chatman. It was only by doing an independent Google search that I found Chatman's USC research page. So right out of the gate, this study seemed to belittle and marginalize contributions from the very people it was supposed to represent.
G/O Media may get a commission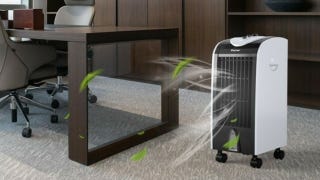 Save $10
Evaporative Portable Air Conditioner Cooler with Filter Knob
After complaints (on Twitter, of course), the study authors eventually added a picture of Chatman to the research page.
Chatman has also come out to say that this study is entirely her doctoral research, and that the description of it was not authorized by her. She still isn't sure how it got posted on USC's site.
The study description includes other alarming elements, especially given that it was not authorized by its lead researcher. For example, the scholars are attempting to identify members of Black Twitter by following people who livetweet during episodes of Scandal. For many people, this felt like an insultingly narrow scope, especially when Black Twitter has been as much or more about political events like the shooting of Trayvon Martin as it has been about TV shows.
But perhaps the most disturbing part of the study was a section where the researchers highlighted their methods. One of the main issues they face as researchers is that Black Twitter is a constantly-changing group of people, and that, as they write, "not everyone who identifies as black is a part of Black Twitter, nor does everyone participating in Black Twitter identify as black." So they have to map connections between people in Black Twitter by tracking who is tweeting to whom, and developing a social graph. Here's what the researchers say:
In pursuit of a generalizable set of best practices for audience research on social media, DSAIL is working toward an understanding of highly active sub-community of Twitter users often self-identified as "Black Twitter." This case study turns on a tricky classification problem: not everyone who identifies as black is a part of Black Twitter, nor does everyone participating in Black Twitter identify as black ... The data we are collecting will allow us to map specific user connections, explore how information is spread and by whom, and identify the types of communication practices that are unique to Black Twitter. As part of this research, we are engaged in highlighting and evaluating both the immediate and long-term social implications of these online interactions.

In order to observe the unpredictable flow of Black Twitter activity, we turn instead to a structured set of events around which a significant percentage of the Black Twitter community has gathered. Our case study focuses on the popular television show, Scandal (of which the protagonist is notable actress, Kerry Washington). From October 3 to December 12, 2013, we tracked the activity of any user tweeting about Scandal, and logged their Twitter conversations and user metadata. With this collection as a starting point, we have begun to map out the relationships among users who "live-tweet" Scandal in an effort to identify sub-groups of users that interact with one another outside of their shared interest in the TV show. From there, we hope to identify particular cliques of individuals that identify as part of Black Twitter to further explore their engagement with the show and each other on Twitter as well as their offline participation more generally in black culture and politics.
Not to put too fine a point on it, this sounds like the kind of work that intelligence agencies and law enforcement do to track subversion. They are trying to identify people in this amorphous Black Twitter network, in order to understand how it affects "offline participation in black culture and politics." They want to discover who on Twitter might be mobilized to protest an event that affects the black community. After an event like Ferguson, it's hard not to see this research in a rather sinister light.
So basically, at this point, the Black Twitter study has gone a long way toward alienating the group it purports to want to understand. This is an ongoing problem with sociological studies, especially when they are focused on marginalized or oppressed groups. It's all too easy for supposedly objective academic research to come across as just another way that the group is being treated like a bunch of outsiders at best — and animals in cages at worst.
And yet the trainwreck that is this study could easily have been avoided. Why didn't the researchers participate in Black Twitter before launching the study? Why not announce the study on Black Twitter first, and get consent from people in the community before tracking their social network? If people aren't allowed to consent or opt out, a study like this becomes a form of surveillance and profiling, no matter how good the intentions of the people running it.
Read more about the Black Twitter study at USC
UPDATE: Chatman has written an excellent post about responses to the research, which is her doctoral project. She writes that she did not approve of the text posted on the USC site, nor was she consulted when it went up. Here are a few salient comments from her:
The project is lead by me, was devised by me, and contributes to my dissertation. There are others involved: my faculty sponsor, Professor Francois Bar, and two other doctoral students, Kevin Driscoll and Alex Leavitt, along with many other undergraduate and masters students who have participated in various ways. Like everyone else, I was surprised to see that my contributions to this project were minimized. This is no fault of my immediate team members. They have advocated my place as the originator of the idea for the research, and supported my position as the first author on all the work we have done. I have not been given a satisfying explanation for how this happened, but trust me, no one was more upset than I was.

I did not approve the description of the project that was on the Annenberg Innovation Lab website. It does not fully encapsulate the scale, methods, or full reasoning behind the project ...

Of course, Black Twitter is about a lot more than entertainment. We started with "Scandal," but with my team I hoped to develop a methodology that could be used by myself or by other like-minded researchers to understand the full scope of Black Twitter and its capacity to benefit Black public life and articulate our perspectives on the society we live in. Black Twitter is a space for us to be heard, whether we're discussing a television show, the countless murders, harassment, and assault of Black men and women, or the everyday instances of racism and sexism that we experience, which go ignored and unacknowledged by others. I want to write about it so that my students and future generations are able to read about it. I hope you all read it, too. And give me more critique.
I have been working to get to the bottom of how the misrepresentation of my work happened. I know that no one intentionally tried to do harm, but I am frustrated because this is indicative of the very same problems– erasure of Black people and their contributions– that my project is about.