Urban fantasy writer Jeff VanderMeer has decided to alter his neurological makeup by reading 60 classic works of philosophy in 60 days - and recording online what the experiment is doing to his brain.
VanderMeer, author of the celebrated City of Saints and Madmen and most recently of a swashbuckling Predator novel, has gotten through about 14 of the 60 books in Penguin's Great Ideas series and it's already making him really depressed.
After Mary Wollstonecraft's "A Vindication of the Rights of Women" - a depressing book about the state of women's rights in eighteenth century England by Mary Shelley's freethinking, freeloving mother - he had to delve into even more horrific territory. Vandermeer tackled William Hazlitt's "On the Pleasures of Hating." Each day, after completing the book, VanderMeer writes a blog post about it containing a key quote, a cogent summary of the author's argument, and a few personal conclusions he's drawn from it.
It's an incredibly cool intellectual exercise, and for those of us who don't want to slog through 60 books of great philosophy his posts are a fun introduction to important thinkers. Next up, he'll be tackling the woes of the world with "The Communist Manifesto" and then Schopenhauer's "On the Suffering of the World."
G/O Media may get a commission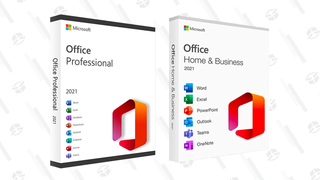 89% off
Microsoft Office Professional 2021 Lifetime License
Ultimately I think VanderMeer's experiment is proof that rich, difficult works of philosophy are just as important to the scifi author's intellectual life as science journals and novels are.
Read VanderMeer's 60 in 60 experiment as it unfolds on his blog, Ecstatic Days.