Currently, there aren't many dead people on Facebook, which is largely because its user base is so young. But time marches on and death is inevitable, so will there ever be more dead than live people on the social network?
Long answer short: yes. And it'll probably happen in either the 2060s or the 2130s, according to Randall Munroe. He explains:
Based on the site's growth rate, and the age breakdown of their users over time, there are probably 10 to 20 million people who created Facebook profiles who have since died.... About 290,000 US Facebook users will die (or have died) in 2013. The worldwide total for 2013 is likely several million. In just seven years, this death rate will double, and in seven more years it will double again. Even if Facebook closes registration tomorrow, the number of deaths per year will continue to grow for many decades, as the generation who was in college between 2000 and 2020 grows old.
The clincher, though, is whether Facebook can get new, living users faster than people die. The trouble is, we can't predict whether Facebook will continue to thrive or gradually decline in popularity (like most other social networks have). If Facebook does go the way of Friendster, the dead will outnumber the living some time around 2065:
G/O Media may get a commission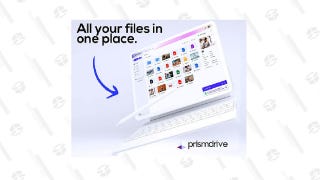 Save 97%
Prism Drive Secure Cloud Storage: Lifetime Subscription
The alternative scenario, where Facebook continues to succeed, would see the same situation happen in the mid 2100s:
But that second case seems pretty unlikely: Zuckerberg may be good, but the chances of him having created a network that endures for over a century? Slim. Now, go read Munroe's entire analysis. [What If?]