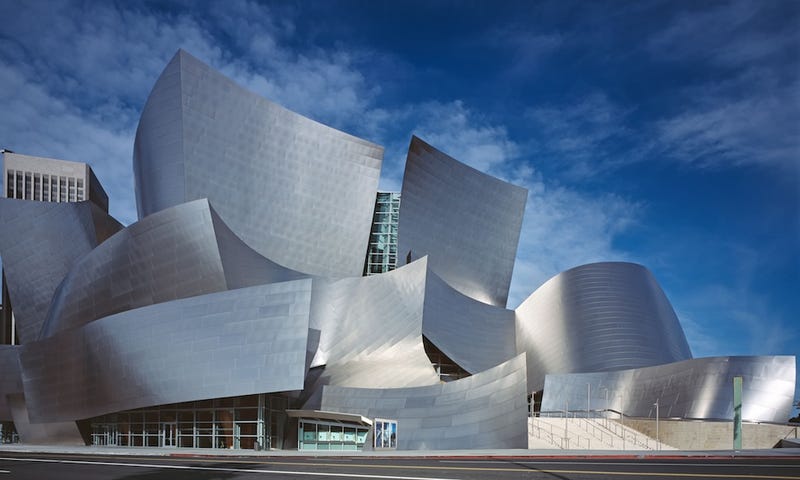 Happy birthday, you old crumpled wave of steel, you! L.A.'s signature building opened to the public 10 years ago today, giving the city's downtown a much-needed civic boost and cementing architect Frank Gehry's status as a metal god. I wrote a story for this month's Los Angeles Magazine about the building's anniversary, and, in the process, dug up a few more interesting facts that you can read while you wrap Disney Hall's birthday presents in aluminum foil.
It predates Bilbao
Everyone thinks that Disney Hall is just Gehry ripping off his design for the Guggenheim Museum in Bilbao. But the design for Disney Hall came first. The initial $50 million gift from Lillian Disney, widow of Walt, was granted in 1987. Gehry was selected in 1988, and his design was announced in 1991. Due to funding constraints, however, construction didn't start until 1999. Meanwhile, Bilbao was completed in 1997. TAKE THAT, SPAIN.
It was supposed to be made from stone
The original design called for limestone. A prototype of a wall was even constructed and exhibited at the Venice Biennale in 1992. But, after concerns about cost, the stone was replaced with steel.
It was part of a grander plan
Disney Hall is actually just one small piece of a much larger, unbuilt proposal designed by Gehry called The Grand (also called the Grand Avenue Project, seen above). The 3.6 million square foot mixed-use proposal features shopping, dining and several residential skyscrapers on three city blocks. The developers just won an extension to try to bring their plan to life, but the design is still being debated.
It's held together by tape
Okay, not duct tape, but a special kind of adhesive. The outside walls are covered in 6,500 stainless steel panels, no two of which are the same shape or size. Permasteelisa, the construction team, needed a way to invisibly fasten each 145-pound piece of steel—no rivets, no welds. The solution: 3M's VHB Tape, an acrylic foam adhesive so strong it can hold locomotives together.
It's more like a jet than a building
Not surprisingly, Gehry's hand-sketched undulating walls and irregular shapes presented a challenge to contractors in the age of early computer modeling. His firm used software called CATIA (Computer-sided Three-dimensional Interactive Application), that was being used to design French fighter jets.
It melted shit
When Mayor James Hahn dedicated the building, his comments were eerily prescient: "This building has a UV factor of 100." The combination of hyper-reflective and concave surfaces created a parabolic mirror—similar to burning ants with a magnifying glass, except the ants were people! Angelenos living in the adjacent condominium building suddently found themselves in mysteriously overheating apartments. Employees reported traffic cones melting and the glare was so bright it distracted drivers on the 101 Freeway. A 2005 study [PDF] determined the building was creating a microclimate, with temperatures soaring to 138 degrees on the sidewalk. The offending panels were first covered by fabric as a temporary solution, then dulled with two industrial sanders to reduce the reflection.