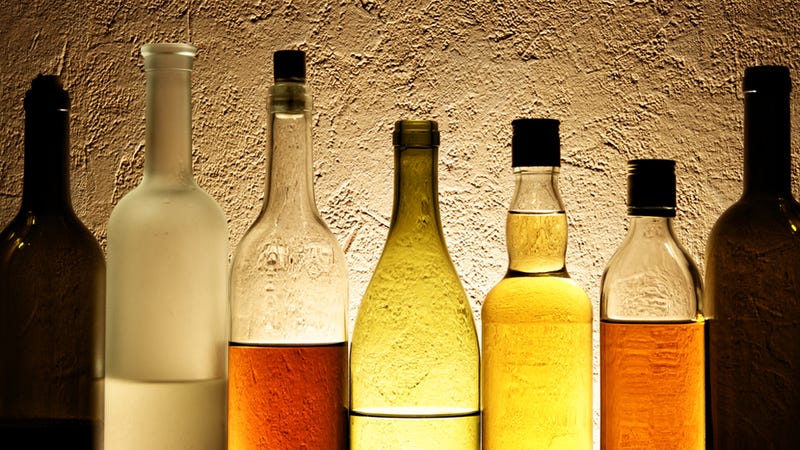 Jack Sparrow has his rum, Ron Burgundy has his scotch, and you probably have your own favorite liquor, too. But how much do you know about your beverage of choice from that magical shelf behind the bar?
You spend more time with your booze than you do with most of our friends; isn't about time you got to know it a little better? Mental Floss takes a look at the surprising histories, quirks, and uses of eight alcohol favorites.
Whether you're a whiskey connoisseur or just a gin enthusiast, it's always good to keep a few little-known facts under your belt, because you never know when the right piece of trivia will come in handy. After all, if you can't do a magic trick, you might as well dazzle your drinking partners with your knowledge of good spirits.
With that in mind, here are 20 things you might not know about the most popular types of liquor.
BOURBON
1. In 1964, the U.S. Congress recognized bourbon as a "distinctive product of the United States." The American whiskey gets its name from Bourbon County, Kentucky. Ironically, despite Kentucky producing 95 percent of the world's bourbon, none of it is currently made in Bourbon County.
BRANDY
2. The word brandy is derived from the Dutch word brandewijn, which translates to "burnt wine." This popular digestif is created by distilling wine.
3. Some of the earliest thermometers—used in the 1600s—contained brandy instead of mercury. The liquor was eventually replaced with mercury due to the latter material's wider range of liquid-state temperature.
GIN
4. Even though gin has been produced in the U.S. since colonial times, it wasn't a very popular liquor until the Prohibition era. The ease with which it could be made and the relatively low cost involved in producing it made gin an abundant favorite at illegal bars.
5. The name gin is derived from various languages' names for the juniper berry—where gin gets much of its flavor. In French, it's genièvre, while in Dutch it's jenever, and in Italian it's ginepro.
6. Gin became extremely popular in the British colonies due to its use as an additive in concoctions intended to prevent malaria. Colonists in tropical areas would use gin to mask the bitter flavor of quinine, an anti-malarial drug, by dissolving it in carbonated water—forming tonic water—and then adding a splash of gin. This gin-and-tonic drink later made its way back to the rest of the world, and the rest is history.
RUM
7. Stylists in the 1800s believed that rum held the secret to clean and healthy hair, and often advised their clients to wash and soak their hair in the tropical liquor. (Brandy was considered a slightly less effective alternative.)
8. July 31 is "Black Tot Day" in the U.K., commemorating the 1970 rule that abolished the British Navy's daily ration of rum for sailors. The ration was referred to as a "daily tot" and dwindled from half a pint twice a day when it was originally introduced in 1655 to 70 milliliters once per day at the time it was abolished.
9. In order to determine whether their rum had been watered down more than it should be, sailors would occasionally mix gunpowder with their liquor and attempt to light it on fire. If the mix refused to flame up, they knew it had been watered down too much. A desirable proportion of water-to-rum, when mixed with gunpowder, would catch fire—thereby giving sailors "proof" of its alcohol content. This is where the modern term for a liquor's alcohol content originates.