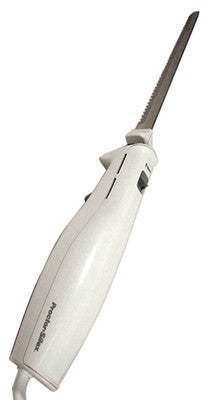 By Brendan I. Koerner
As hopeless gearheads, we're naturally prone to assuming that today's gadgets invariably trump their low-tech forebears. And for the most part that's true—how many of y'all would honestly prefer a rotary phone to your Treo 700wx, except for the purposes of eliciting ironic laughter?
But the quality gap narrows considerably when dealing with low-end gadgets, particularly those that are merely electronic upgrades on everyday tools. While I'm sure the $70 Cuisinart Electric Knife does a mean job of eviscerating ham, I know from harsh experience that the $9.99 Procter-Silex Easy Slice (pictured at right) is vastly inferior to the $3.99 chef's knife I bought at the local A&P years ago. The sad reality that us gizmo aficionados must accept is that just because something's battery-powered or souped-up with an LCD screen doesn't mean it's superior to what grandpa used.
For this week's column, then, I considered some head-to-head matchups between low-end electronic gadgets (all sub-$12) and the austere devices they're meant to replace. Be forewarned: I have very mixed feelings about the razor issue. PLUS: A first-ever reader's nomination for the Low-End Hall of Fame!