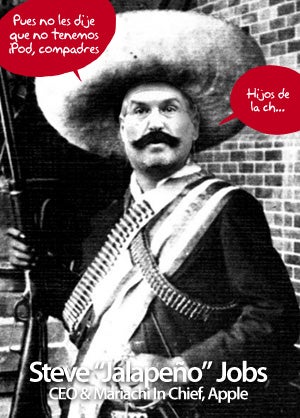 It seems that Steve Jobs, Apple's Mariachi-in-Chief, doesn't care much about Latin America other than to get his soy cheese and tofu-stuffed jalapeños. According to the argentinian correspondent for Silicon News, «buying an iPod in Latin America is almost an odyssey. The price is much more expensive than in any other part of the world, is hard to find technical support and there's almost no accessories to be found anywhere». The official prices are certainly outrageous: a 2 gigabyte iPod nano costs $328 in Brazil and $323 in Argentina, compared to $149 here. Things get even worse after the jump.

This price differential, evaluated by Commonwealth Securities in their latest «iPod Index», is caused by a load of taxes and import costs that pushes most of the purchases to US-based grey market import channels.
According to the report, there are almost no shops in the continente. For the whole of Argentina, she says, there's only one «Apple Center MacStation» (which is the name Mac oriented shops have there) located in downtown Buenos Aires. Venezuela, which is the number one iPod market in Latin America, doesn't have any official Apple representation in the country, and all products are sold through third parties.
To add insult to injury, the iTunes Latino Store actually doesn't work in South America. Only people living the USA can access it. All in all, a pretty sad picture of the state of all things Apple just across the border; a state that is echoed by the opinion of users and bloggers from these countries, who feel that Apple just doesn't give a damn about them. – Jesus Diaz
¿Por qué a Apple no le interesa America Latina? (in Spanish) [Silicon News vía Gizmodo ES]