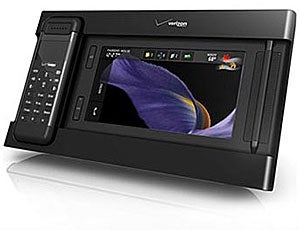 Verizon is getting all mysterious on us, buzz marketing its upcoming FiOS Fone, which it calls "the phone that pretty much does it all." From the cryptic description, looks like we're dealing with a videophone, desktop organizer and multimedia player that can also handle a contact list, voicemail, calendar and personal memos. And check out that handset on the left, which appears to be removable.
When will we get this sexy phone, and when is FiOS coming to your area? And, what's that in the screen on the FiOS phone? A shapely butt underneath a diaphanous gown, or a pair of ripe breasts, or are we just seeing things? Your questions answered, after the jump.

The FiOS Fone will be hooked up to a major-league fiber optic broadband network. If you're not familiar with Verizon FiOS, it stands for Fiber Optic Service (or it's an Irish word for for "knowledge," depending on how much green beer you've drunk), bringing sweet fiber optic broadband pipes to your premises, promising to bring boatloads of data to you, lickety-split.