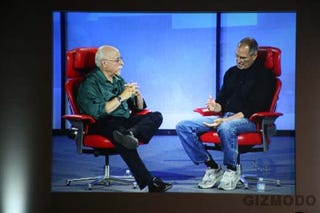 [UPDATE Youtube on Apple TV. More Below]
12:15 We're at the fluffy intro
12:21 WM When you made the change to Apple from Apple Computer, people wondered if it was the exit. Are you committed to computers?
SJ Totally. WWDC is big. Leopard is coming in October. we love it.
12:22 WM Are you planning a big iPod change?
SJ You mean since last Sept?
WM Yes
SJ Fast-moving business!
WM Well, it wasn't completely new.
SJ....
WM I wasn't taking your feelings into account.
SJ We're working on the best iPod ever and its awesome.
WM You have a phone?
SJ Yes (whips it out) best iPod we've ever made. Best phone we've ever made!
WM Coming out end of June, last day?
SJ Uh, yeah. I'll send you one. (giggles)
12:26 WM Selling it through the stores and Cingular?
SJ Yes, Cingular, which is the new AT&T.
WM Just like the old AT&T. You're a lot nicer to the phone companies now.
SJ Well, yes, We haven't sold one yet but they broke a lot of rules. And we did the same. We wouldn't show it to them. And we took a gamble on each other. I will never forget that.
12:27 WM Why did this work? They wanted your brand to go along with their new brand?
SJ So far, music's not doing well on phones. On phones, you have 3G, but not good ways to use it. You get the baby Internet and the mini Internet, but nothing real. We're doing that in an entirely new way. We'll see.
12:28 WM Any feature in the iPhone you'd like to announce that you haven't yet shared?
SJ Uh, no.
[iTunes Plus Songs now]
SJ [Pretty simple UI, you can upgrade old music as long as its available.]
WM Any other movement on the record labels?

SJ Well you know that record labels sell 90% of their stuff online (goes into the details in the open letter to music industry)...