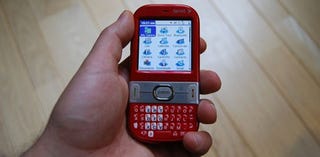 Released just yesterday, the Palm Centro has our eyes for a few reasons. First, their Treo smartphones have some of the highest ratings in smartphone history on review sites like CNET. So when Palm essentially shrinks their famous Treo and drops the price to $99 with contract, we have to take a closer look.
So hit the jump for our Frankenreview on the Palm Centro—seven takes that will let you know the whole story.
Computerworld

Palm appears to have carefully thought through the size of the device. For instance, it was just small enough to stow comfortably in a jeans pocket. And it is just barely large enough to have a full QWERTY keyboard.



Treonauts

Again, the touchscreen is smaller in size but luckily Palm kept a high resolution 320x320 display. I didn't have any problems at all viewing all sorts of information on this screen but admittedly the smaller size does make it just a bit harder to reach some buttons or menus with your fingers...



Gizmodo

Like Brian said, that keyboard is seriously tiny. It's much easier to use the screen to type in phone numbers, for instance, and in general, it's significantly more cramped than a Treo.