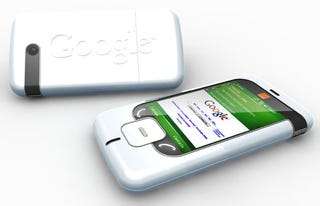 Click to viewAlthough rumors of a possible Google Phone have been making the rounds really hard lately, any such phone will have to be amazing to grab enough end-user and media attention. Expectations are high, but since we're dreaming, here's our wishlist:

Tight integration with Google Apps:

• Picasa: A 2MP camera with decent color and low light performance should take a shot, and upload it directly to your Picasa web storage as a mirror. Likewise for YouTube uploads.

• Google Talk: Both IM and VoIP makes this a fancy web communicator. The carriers may not like this, but we've got a feeling Google will sell this sans carrier. Oh, and other IM client support.

• Google Video and YouTube: To at least match the iPhone, they have to have their video sites ready for mobile usage. Uploading

• Google Earth: Google Earth for 3D maps, with GPS and app integration.

• Google Docs support with full read like the ones for iPhones, Windows Mobiles and BlackBerries, but real with full editing right on the phone, and support for multiuser editing.

• Google reader for RSS.

• Product Search, including camera phone barcode reading for quick price comparisons.

• Google Transit, Google Ride finder (taxis, limos and shuttles) integrated into maps.

• Third-party Support: Allow an open platform for other people to develop for. Even a company as big as Goog can't do everything by itself, and with niche apps developed by end-users, you can service minor target segments that wouldn't otherwise be cost-effective for you to cover.

• Those apps should be native, or at least widgetized for performance reasons. Native apps just run faster. We don't mean Java apps either, because those are even worse in terms of battery usage.