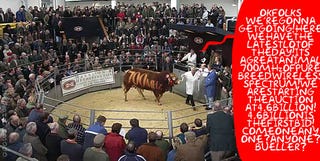 Click to viewYou've probably seen the phrase "700MHz auction" bouncing around these pages quite a bit lately. Some of you know too much for your own good about this, but surely many readers are ashamed to admit you don't know what it means. It's okay, we get frazzled at times, too, so we thought we'd take a moment to explain what it means, why it matters, and what companies, at last check, were actually sitting at this FCC-run billionaire's poker table.
WTF Is This 700MHz Deal?

We're not getting into the technical nitty-gritty of the electromagnetic spectrum. Just know that there's only a finite amount of it for broadcasting and telecommunications, so spectrum licenses—the right to use a particular chunk—are really valuable. Analog TV is currently broadcast over the 698-806 MHz range of the UHF band: the ballyhooed "700MHz spectrum." But the FCC will kill off analog TV on Feb. 19, 2009, and will auction off the right to use it for other purposes.
Why Would Someone Pay BILLIONS for It?

Every frequency band has slightly different physical attributes. The 700MHz band penetrates walls fairly easily and travels well, making it perfect for either cellular or long-range wireless broadband that could provide an invisible alternative to DSL and cable. It could simply augment a major telco's existing holdings with a powerful wireless network, but it could also mean a lucrative new ISP for Google or some other non-telecom behemoth.