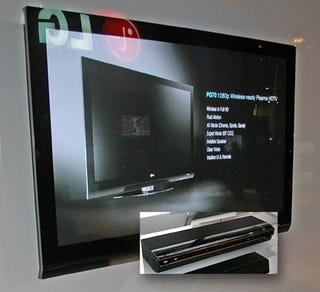 Blasting HDTV from one place to another without wires is a revolutionary concept that made evolutionary strides at CES 2008. We found numerous companies showing the technology that's able to move luscious HDTV video either across the room, or in some instances, through walls and around the house.
Some of these systems are shipping soon, while others are only in the experimental stage. The remarkable thing is, all except one of the transmit/receive concepts we saw looked indistinguishable from wired HDMI video to the eyes of a normal person:
LG will offer wireless 1080p as an option on its 50-inch and 60-inch PG70 plasma screens, and it'll be standard on the LG71 LCD panel. Using the 802.11n protocol, the video is compressed with JPEG 2000, and looked nearly perfect with few visible artifacts. All these models will ship in August.
Westinghouse Digital's wireless 1080p system uses UWB (ultra wideband) components from Pulse-LINK, building the receiver into its TVs and using (nearly) visually lossless JPEG 2000 compression to make it all possible. Available in Q4, the company says it'll add $200 to the price of a 1080p LCD TV.