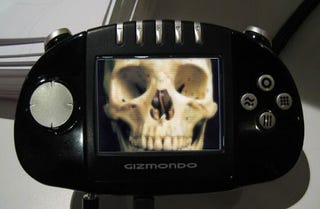 We received half a dozen tips earlier today from our Svenska readers talking about "Gizmondo coming back." The story went from a vague November 2007 quote by ex-convict Carl Freer into a morning internet craze, all fueled by a flash animation in a domain registered through an anonymous service. A bit of fact checking, with the help of a few Swedish journalist friends and whois, reveals that the rumors of a Gizmondo reappearance may have been greatly exaggerated. Actually, there's probably enough material to completely smash them.
The original article appeared in Realtid.se, a gossip online mag that according to our sources in Sweden lacks any kind of credibility and "should be avoided at all costs." In the article, Carl Freer talks about launching a new Gizmondo with a wider screen and a possible co-op with an unnamed telco where customers will be offered a Gizmondo for free, just for signing up for a data transfer subscription.
Freer, long-time friend and associate of famed Ferrari-crasher, fraudster and fellow ex-convict Stefan Eriksson, was recently arrested in the US for impersonating an "anti-terrorist agent" and illegal possession of guns. He was also previously convicted in Sweden for fraud and fined $265,000 in Germany in 2006 for writing bouncing checks as a car dealer during the '90s.