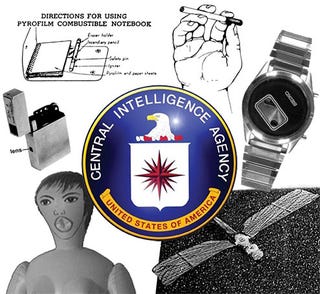 Spycraft: The Secret History of the CIA's Spytechs from Communism to Al-Qaeda goes on sale in stores today. I know you think I probably milked it for all it's worth, but there's actually a ton of mind-boggling spy gear in there that I didn't have a chance to cover on Giz, such as:
• Robotic critters, from the insectothopter of the 1970s to the robofish of today
• Cigars developed to kill, confuse or humiliate Fidel Castro—not surprisingly, one would have made his beard fall out.
• The beloved skyhook—yes, the thing that yanks people from the ground up into airplanes. Learn of its origins, early animal test runs and its one successful on-record mission.