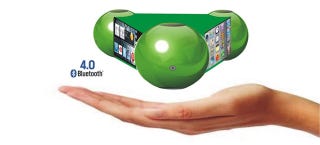 The online fund-begging havens of Kickstarter and Indiegogo (among quite a few others) are bursting with wild, fantastical visions of things once thought impossible. Some of them are awesome, some outlandish, some flat-out insane. These are but a few.
Whether these craziest of projects are scams or the masterminds behind them have actually lost their grip on reality, one thing remains true: These laws-of-physics-bending, absolutely preposterous projects are they're own strange works of delusional art. We've collected some of our favorite ones below, along with why they'll never work.
But hey—reality is overrated anyway.
---
What It Is
"Once in a generation comes a project so audacious, so exciting, so impossibly challenging that just to dream that it could be achieved is pushing the boundaries of reason." Accurate? Probably not. The most fantastically creative definition of the word "delusion" we've ever heard? You bet!
In the words of Arc Island visionary Ben Way himself:
Arc Island will be the largest civil engineering project in history, to build an entire floating structure the size of Manhattan that can be moved to different locations in the world, can be built upon and using a completely modular approach expanded as it grows.

We are creating a new civilisation from scratch, the scientific, economic, social and technological implications are huge; this is not an extension of another country, this will be its own country, with its own economic, political and legal structure. We want to take all the cutting edge ideas from all disciplines and apply them to this idea, and we want you to be part of it.
Way apparently hopes to initiate the second coming of Noah's ark, but this being the 21st century, Ben's taking advantage of the many technological advances since the last time god tooketh away. His vision: A floating, moving mechanical superstructure the size of Manhattan that also happens to be completely energy dependent and self-sufficient. Because why not.