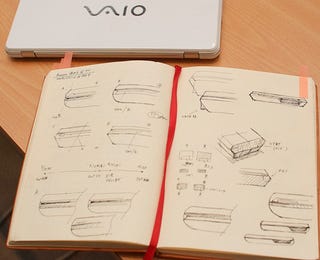 Engadget Chinese took the time to translate an interview posted on Cool3C with the Vaio P's designer, Takuma Tomoaki, who reveals secrets of the super-widescreen LCD and never before seen accessories.
Tomoaki said the entire design of the Vaio P was based around the keyboard, which is roughly 90% the size of the VAIO TT keyboard. Tomoaki called this the smallest usable keyboard possible, and the rest of the shape was based around this, including the Vaio P's 120mm depth.
This is what birthed the 1600x768 screen, which apparently packs such a high resolution because it's intended for native 720p playback. ORLY?!. Last time I checked, the Vaio P could barely playback standard video, let alone HD. A larger screen was actually planned too, but those pesky wi-fi, 3G and Bluetooth antennas got in the way.