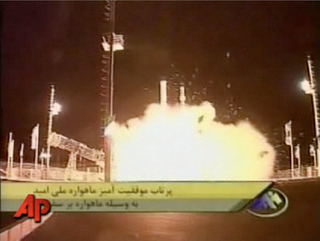 On the 30th anniversary of Iran's Islamic Revolution, Mahmoud and friends have put their first functional satellite into orbit, carried there from a domestically-made Safir 2 rocket.

AP brings us Iran's state television footage:
Named Omid, or hope, the satellite weighs around 60 pounds and is primarily a "data-processing satellite" according to IRNA, the state news agency. Last summer, Iran said they successfully put a dummy satellite in space, but this appears to be the first time a working piece of hardware was put into orbit.